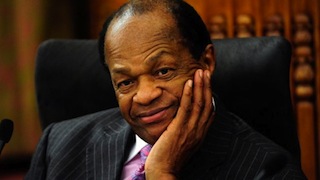 Thousands gathered Saturday for a joyful final farewell to Washington's "mayor for life" Marion Barry, remembering him more for his civic service than his infamous brush with crack cocaine.
The popular and controversial Mississippi sharecropper's son turned civil rights activist who served four terms as mayor of the US capital died November 23 at the age of 78.
Three days of events marking his outsized life culminated Saturday with a four-hour memorial service at Washington's convention center, followed by a private burial under dark gray skies.
Thursday saw Barry lying in state in the Wilson Building, Washington's city hall.
Then on Friday, big crowds gathered to see his remains tour the city in a hearse, then pull up to a church on a horse-drawn carriage for an evening church memorial service.
On Saturday, gospel hits like "Victory is Mine" echoed through Washington's cavernous convention center, where the floor literally bounced under the feet of a hand-clapping, cheering crowd.
"These past few days have been a wonderful tribute," said son Marion Christopher Barry to loud applause from the overwhelmingly middle-class, middle-aged and African-American audience.
"There is not a person in this city or a corner of this city that he hasn't touched," he said, saluting his father's influence and legacy on this city of 650,000.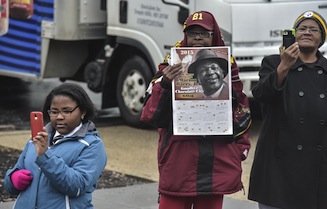 A contemporary of such civil rights heroes as Martin Luther King, Barry built a power base in Washington in the 1970s from which he championed its then African-American majority.
He gained international infamy when an FBI sting operation in 1990 caught him on video tape smoking crack cocaine in a downtown hotel.
Having served three terms as mayor, he went to prison for six months, only to stage a remarkable political comeback to win a fourth mayoral stint.
– 'A people guy' –
Up to his death he was still a city council member, representing working-class Ward Eight, where he opted to live, rather than in a smarter neighborhood.
Such was Barry's staying power he earned the nickname "mayor for life," which he unabashedly appropriated as the title of his memoirs.
Saturday's marathon "celebration of the journey of mayor for life Marion Barry" started a half-hour late in order to accomodate last-minute mourners who filed by his open casket, which was later closed and generously covered with red roses.
Local politicians shared the rostrum with civil rights veterans like Jesse Jackson — described in the official program as "friend, brother, homeboy" — and outspoken Nation of Islam leader Louis Farrakhan.
"He never stopped running. He never stopped serving… That's why the people loved him," said Jackson, delivering the eulogy.
Passing references were made to the deaths of black American men at the hands of white police officers this year — incidents that have rekindled protests and debate about race relations.
But overall, the mood was festive.
"I'm prepared to honor Marion with a song or two," said Grace Odrick, 51, holding a brass trombone that she introduced as "my husband, Sunshine."
"He's like a hero of mine because he served the people," she said.
Kim Rosier remembered Barry for his trail-blazing youth employment programs, through which many young black Washingtonians got their first jobs.
"I'll never forget him for that," said the 52-year-old nurse. "He had his issues, but he was a good man overall, definitely."
On the street outside, karaoke busker Tony Covay — singing Sam Cooke's soul anthem "A Change is Gonna Come" — remembered performing at one of Barry's earliest political fund-raising events.
"He's a straight-up guy, you know. He's a people guy," he said, still referring to the deceased "mayor for life" in the present tense.
Load more