Jamiu Yisa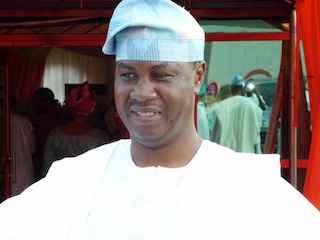 Estate developer and one of the leading contenders for the Lagos State Peoples Democratic Party's guber ticket, Mr. Babatunde Gbadamosi, caused a scene as he appears at the party's governorship primary in a bulletproof vest.
The politician popularly known as BOG, told journalists that he deliberately wore the vest to the venue in order to protect himself from being hit by a stray bullet as a result of the violence that erupted earlier in the day.
Gbadamosi counters the PDP's leadership position that the violence was caused by thugs loyal to the opposition party, adding the real perpetrators of the violence were from within the party.
He said that the violence was part of a plot to intimidate the almost 1,000 delegates that have converged on the venue to elect the party's flag bearer in the 2015 general elections.
"I deliberately wore the bulletproof vest because I am afraid of being shot but I am urging all my supporters to come and not be intimidated.
"There is fear of intimidation and some people in the party want to intimidate the delegates but we will ensure that everyone will vote fearlessly and as it pleases them," he said.
He rues the position of the state leadership of the party in supporting an aspirant, adding that the leaders would have their say while the delegates too would have theirs.
He expressed confidence that he would win the party's ticket at the end of the primaries.

Load more