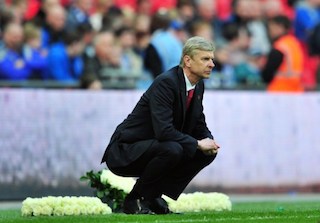 Former England striker Gary Lineker has criticised Arsenal supporters for verbally abusing the club's manager Arsene Wenger, describing it as "disgustingly disrespectful and totally inexcusable".
A video has emerged apparently showing a group of people shouting foul-mouthed abuse at Wenger as he boarded a train after his side's 3-2 loss at Stoke City on Saturday.
The result left the north London club 13 points below leaders Chelsea in the Premier League table, but Lineker said there was no excuse for the fans lashing out at Wenger, who has been Arsenal manager since 1996.
"Just saw the Wenger abuse video," the BBC television presenter wrote on Twitter. "Disgustingly disrespectful and totally inexcusable, regardless of any bloody football results."
The tweet quickly garnered over 5,000 retweets from Lineker's followers.
Wenger, 65, won three Premier League titles and four FA Cups during his first nine years at Arsenal, but last season's success in the FA Cup was the club's first piece of silverware since 2005.
The Frenchman has faced protests from supporters this season, with some fans unveiling a banner calling from him to leave after Arsenal's recent 1-0 win at West Bromwich Albion.
Watch Video Here:
Load more