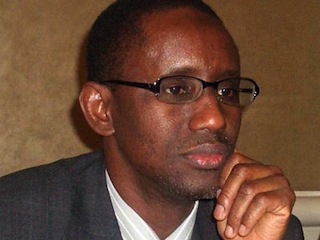 Malam Nuhu Ribadu, former Chairman of EFCC, on Monday, emerged winner of the PDP gubernatorial primaries in Adamawa.
The election, held in Abuja due to insurgency in the state, was supervised by the National Working Committee (NWC) of PDP
Ribadu scored 688 votes, followed by Sen. Marcus Gundiri with 33 votes, Dr Ahmed Modibbo, 30 votes and the incumbent Gov. Bala Ngilari who polled 26 votes.
Alhaji Awwal Tukur, son of the immediate past National Chairman of the PDP, got 24 votes while Maj,-Gen. Aliyu Kama scored 3 votes.
NAN reports that two votes were invalidated.
Ribadu said he was humbled and challenged by the choice of the people of the state.
"My happiness knows no bound as I take your challenge to lead our great party, the PDP, to the gubernatorial election come Feb. 2015.
"With utmost sense of responsibility and honour, I pledge not to falter as we commence this journey for a new Adamawa State," he said.
He added that the delegates, who elected him to fly the flag of the PDP in the state, represented the will of the people of Adamawa.
He said that through their votes, they had voiced the yearnings of the people of Adamawa who were craving for genuine development of the state.
The former EFCC boss also promised to ensure peaceful and harmonious coexistence among the people of the state with the support of all.
"Like Nigeria requires unity more than ever before, I extend my hands of friendship to all those who also aspired for this ticket.
"I believe in our collective desire to make Adamawa peaceful and a prosperous place to proudly call home.
He assured the people of his desire to judiciously use public resources for the collective good of all.
"I shall bring my known anti-corruption credentials to bear in all facets of governance," he said.
He commended the delegates for their support and obedience to the tenets of the PDP and its leadership and orderliness, patience and resilience throughout the exercise.
Load more