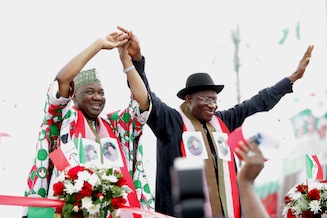 Former National Chairman of the Peoples Democratic Party (PDP) Vincent Ogbulafor on Wednesday said that the adoption of President Goodluck Jonathan as the party's sole candidate for 2015 presidential election was in the right direction.
Ogbulafor told NAN in Abuja that the move would further stabilise the party.
He added that it would also ensure continuity of developmental projects currently executed by the Federal Government.
According to him, President Jonathan has done well to deserve another tenure in office as the country's president.
"He has done well in the last four years and we want him to do more in the next four years," Ogbulafor said.
He said that PDP stood a better chance of winning the presidential election "because of the current unity in the party".
"Jonathan's chances of winning the presidential election are 100 per cent," he added.
Ogbulafor restated his prediction that PDP would rule the country for 60 years.
"There was a time it seemed that PDP was going to crumble but you can see that the party is getting stronger now," he added.
Similarly, Rep. Uzo Azubuike (PDP-Abia) said that Jonathan, as sole candidate, would stabilise the polity.
Azubuike added that if there was continuity, it would make the country to overcome the prediction by United States of America that Nigeria would break up in 2015.
Azubuike said that the All Progressives Congress (APC) would be in disarray after the presidential primaries because each of the contestants who lost will not be happy with the process they have gone through.
"Unlike PDP where we should have had multiplicity of contestants, we are speaking with one mind, and by the time they finish the primary, the party will be in disarray.
"So what the APC is doing is to the advantage of the PDP," the lawmaker added.
Load more