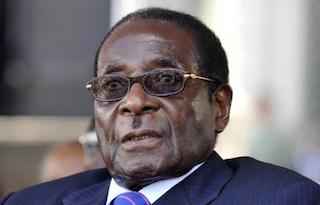 Zimbabwean President Robert Mugabe on Wednesday named hardliner Emmerson Mnangagwa as his vice president, putting the former justice minister in pole position to succeed him.
Mugabe announced the appointment at party headquarters to loud applause, days after sacking one-time presidential hopeful turned rival Joice Mujuru as vice president.
Nicknamed "Ngwena" (The Crocodile) because of his ruthlessness, Mnangagwa has held various senior posts in the country's defence and internal security apparatus.
He is also reputed to one of the richest men in the country.
The 68-year-old played a critical role in Mugabe's crackdown against opposition supporters that claimed thousands of lives in the 1980s, and became internationally known as "Gukurahundi."
Mnangagwa also helped Mugabe hold on to power during 2008 elections, which the opposition won in the first round, but which were in the second round boycotted because of widespread intimidation and violence.
On Wednesday 90-year-old Mugabe also named former diplomat Phelekezela Mphoko to the largely symbolic post of second vice president.
"There are two vice-presidents. From the former ZANU we have Emmerson Mnangagwa," Mugabe said. "We say congratulations to him."
"From the former ZAPU we have Phelekezela Mphoko."
The ruling ZANU-PF is an amalgam of two independence struggle parties, but Mugabe's ZANU faction has long been dominant.
The two appointments cap Mugabe's recent purge of rivals, a bid to end fierce infighting over who will take over from him.
Analysts say Mugabe is increasingly concerned with making sure his family is secure after he steps down or leaves power.
As part of that purge Mugabe on Tuesday announced the sacking of Mujuru and eight ministers.
He said the replacement ministers will be announced soon, "but the vice-presidents are incumbent. These I would like to be sworn-in on Friday at State House."
Rumours had swirled that Mugabe may seek to appoint his wife Grace to one of the vice presidential posts, a move commentators saw as unlikely given her recent entry into politics.
In recent months she has been used as Mugabe's attack dog, hitting out at Mujuru and her supporters as plotting to overthrow the president and alleging dodgy business dealings.

Load more