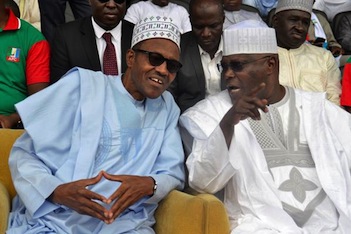 Former Vice President Atiku Abubakar has congratulated Muhammadu Buhari, the winner of the presidential primaries just concluded by the All Progressives Congress, APC.
Buhari scored 3,430 to beat Atiku who scored 954 and Governor of Kano State, Rabiu Kwankwaso who scored 974.
Also, governor of Imo State, Rochas Okorocha scored 624 while Sam Nda-Isaiah, owner of Leadership Newspapers scored just 10 votes.
Atiku who released the statement just after his votes were counted, said the result of the exercise showed that the delegates had spoken.
"I heartily congratulate Gen. Muhammadu Buhari for emerging victorious in this keenly contested presidential primary election of our great Party, the APC. You ran a spirited campaign, and since the delegates have spoken, you fully deserve the victory.
"I am very confident that you will provide the needed leadership to turn this country around. I have no doubt that you will work with dedicated and qualified Nigerians to protect our citizens, improve our economy, create jobs, improve education, reform governance and fight corruption.
"You will indeed bring the change Nigerians have been yearning for. Once more, congratulations," he said.
Continuing, the former Vice President congratulated the other contestants, telling them: "you have all demonstrated your commitment to democracy by participating in this transparent process and by campaigning vigorously across this country.
"I thank our delegates for their sacrifices and their commitment to democracy. In particular, I thank those who voted for me for your faith in me.
"However, since we came up short, have to now rally behind General Buhari to help him prevail in the coming Presidential election.
"The APC has demonstrated, through the transparent process, the Party's commitment to democracy and rule of law. It has demonstrated its respect for people and their choice through the ballot box.
"I sincerely thank the Convention Committee for putting together a hitch-free convention.
"My dear friends, we have voted, a winner has emerged. I pledge my commitment to this Party, and to campaign vigorously for our candidate, Gen. Muhammadu Buhari and all APC candidates to ensure victory in the 2015 elections.
"I call on all other contestants and our party's rank and file to unite behind our candidates at all levels to ensure that the PDP is defeated, so Nigerians can have real change."

Load more