Kazeem Ugbodaga, Yisa Jamiu, Henry Ojelu/Teslim Balogun Stadium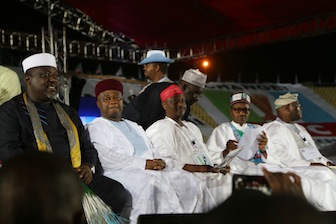 Former Head of State, Major General Muhammed Buhari (rtd), former vice president, Atiku Abubakar, the All Progressive Congress, APC, National leader, Asiwaju Bola Tinubu and other leaders of the party say they are on a mission to rescue Nigeria from decay and destruction which the Peoples Democratic Party (PDP) has plunged it.
They spoke at the ongoing National Convention and Presidential Primary of the APC early today at the Teslim Balogun Stadium, Surulere, Lagos, Southwest Nigeria.
Buhari urged the delegates to remember that history, change and the hopes of Nigeria were there with them and that the delegates should vote according to their conscience.
"We seek a new Nigeria. It starts with us. It starts today. I have placed myself before you seeking your help to nominate me as your standard bearer for our progressive party, APC. Personal ambition does not drive me in this regard. I seek to be the next president of our beloved nation because I believe I have something to offer Nigeria at this time of multiple crises.
"Insecurity, corruption, and economic collapse have brought the nation low. Time is past due that we work together to lift Nigeria up. I am ready to lead Nigeria to its rightful future. I have always served Nigeria to the best of my ability. I have always tried to give more to the nation than it has given me.
"This is the principle of service that has guided my public life. Thus, I am not a rich person. I cannot give you a bucket of dollars or naira to purchase your support. Even if I could, I would not do so. The fate of this nation is not up for sale," Buhari said.
He said what he would give the nation was all his strength, commitment, sweat and toil in the service to the people, saying, "what I can give you is my all. I do not intend to rule Nigeria. I want to democratically rescue it with your help. I seek a Nigeria where Christians and Muslims may practice their faith in peace and security."
"I seek a Nigeria that is just and where corruption no longer trespasses into our institutions and national behaviour. And I also seek a Nigeria where our diversity could be used for our national prosperity. Nigeria is our home. Let us now turn it into the great nation we know it can and should be," he stated.
Speaking, Abubakar, said Nigerians wanted change because they were fed up with paying for electricity and getting darkness which was also destroying the nation's industries and contributing to unemployment and crime.
He said Nigerians were tired of the dangerous PDP mathematics that is destroying "our democracy, the mathematics where 16 is greater than 19 and seven is greater than 19. I'm of course referring to the Nigerian Governors Forum and recent events in Ekiti State respectively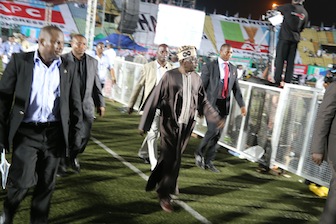 "Nigerians are tired of the abuse of power, lawlessness and impunity of the PDP government; the type of impunity that sees a court sacked and judges beaten up by thugs under the direction of a party to litigation, a governor-elect."
Earlier, while unveiling the party's manifesto, National Chairman, APC, John Oyegun described the event as historic in view of the fact that a presidential candidate that will liberate the nation from the mismanagement of the PDP would be selected.
"APC is ready to provide leadership for a ndew Nigeria. Change is imminent. We have five people that can lead this nation, anyone of them can do it and with the five of them together, they will be unbeatable. They are all winners because they have agreed to support whosoever emerged winner today.
"The imperative of this exercise is to rescue Nigeria and this demands that all our hands should be on deck. I appeal to you delegates to proceed for the exercise and do so with all sense of responsibility. Vote according to your conscience," he said.
Unveiling the manifesto, Oyegun said it had six cardinal points, which were national security, good governance, human capital development, economic development, land and natural resources and foreign policy.
APC National leader, Asiwaju Bola Tinubu said one person would certainly be chosen, noting that the APC was set to liberate the nation from its current quargmire, saying that the call for a change is bekoning.
Tinubu stated that APC is the party to bring about a change in the nation in the midst of crises, urging that the primary be conducted in the spirit of openness, fairplay and transparency.
"APC is the party that will bring care to this nation, Nigerians may be in despair, but we promise them help. Nigeria will change for the better and the economic doom Nigeria is facing will be wiped away by the cure the APC will bring," he said.

Load more