Funsho Arogundade
Nigerian-born international singer, Asa showed she isn't just a music icon but also a style star to watch.
The singer was at the recently held The Future Awards Africa 2014 awards ceremony, rocking a gorgeous and exquisitely beaded cape dress from Iconic Invanity's S/S 2015 Collection which debuted just about five weeks ago.
Asa, who was the headline act of the night, performed songs from her new album, 'Bed of Stone' for the first time at the awards ceremony.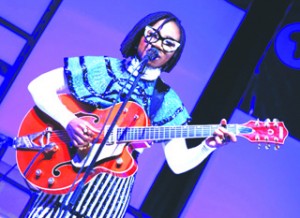 She started with an old favourite, 'Jailer' from her previous album; setting the tone for what was to come. She then moved seamlessly into 'Eyo', a song based on the melody about the famous masquerade festival in Lagos which got the audience rocking, most familiar with the tunes of the song. The singer ended her set with a crowd favourite from the album, 'Satan Be Gone' which provoked rapturous applause before she got into her performance proper.
Those who also performed at TFA 2014 were Waje and surprise actor OC Ukeje who opened the show with a rendition of the Nigerian national anthem. OC Ukeje's performance alongside Waje was a very pleasant surprise.
Closing out the show was arguably the breakout artiste of the year, Yemi Alade.
She regaled the crowd with her new single, 'Kissing' with an acoustic band in tow, bringing a new dimension to her live performances.

Load more