Lagos State Governor, Mr. Babatunde Fashola, SAN, on Monday paid a condolence visit to the family of the late General Leader and Founder of the Cherubim and Seraphim Movement Church (Ayo Ni O), Surulere Movement, Prophet (Dr) Gabriel Olubunmi Fakeye, describing the cleric as a man who served his Lord faithfully.
The Governor was received at Mangoro, Ikeja residence of the Fakeyes by the widow, Mrs. Grace Fakeye in company of some of the children of the late religious leader who was very popular for his unifying religious messages on radio and television.
"Rest in Peace Baba, a very well done job, a superb race, sleep well and in the bosom of the Lord that you served so faithfully," the Governor wrote in a condolence register opened for the late Fakeye.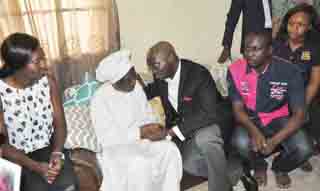 Among the children of the late General Leader who joined the widow to receive the Governor were Mr. Olumide Fakeye, Miss Tosin Fakeye and Miss Imelda Fakeye at their residence in Mangoro, Ikeja.
Also in a letter of condolence to the family of the late cleric, the Governor described Dr Fakeye as a person of manifest devotion to family and friends, a visionary leader with profound knowledge, grasp and appreciation of history.
On behalf of the Government and People of Lagos State, Governor Fashola expressed his heartfelt condolence to the family of the distinguished cleric and statesman.
"I sincerely pray that Almighty God grant every member of the family the strength to bear this loss and the wisdom to sustain the worthy legacy of this legend of our time," he added.