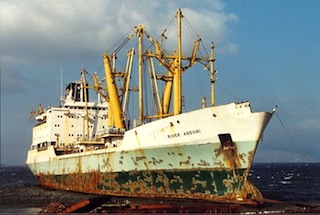 A marine engineer, Mr Alex Peters, on Wednesday urged the Federal Government to facilitate the re-establishment of a national shipping line.
Peters made the plea in an interview with NAN in Lagos.
NAN reports that the former Nigerian National Shipping Line (NNSL), established in 1959, got deeply indebted and liquidated in 995 and all its 21 vessels were sold.
Peters, who is the Secretary, Institute of Marine, Science and Technology, lauded the initiative to bring back a national shipping line which fell within the jurisdiction of the Nigerian Maritime Administration and Safety Agency (NIMASA).
"If the Federal Government is asking NIMASA to refloat such a national carrier, that is a step in a right direction.
"It is important that in doing so, qualified, skilled and experienced management personnel are put in place," Peters told NAN.
According to him, it was a great disservice to Nigeria to shut down the NNSL in the first place.
"The repercussions are still there to be seen.
"Shutting down NNSL was like throwing away the baby with the bath water," the mariner said.
He said that the new national carrier should be made to operate in such a manner that it will grow many indigenous shipping companies in Nigeria. "There is adequate manpower to man the proposed national carrier," the marine engineer said.
He said that a Private-Public arrangement for the proposed new carrier would be perfectly in order