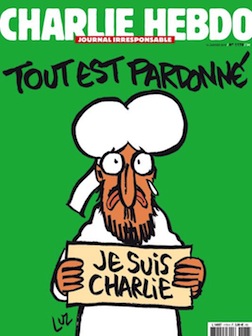 The first issue of satirical magazine Charlie Hebdo to be published since a jihadist attack decimated its editorial staff last week was sold out within minutes at kiosks across France on Wednesday.
"It was incredible. I had a queue of 60-70 people waiting for me when I opened," said a woman working at a newspaper kiosk in Paris.
"I've never seen anything like it. All my 450 copies were sold out in 15 minutes."
The new issue features a cartoon of the Prophet Mohammed on its cover, holding a "Je Suis Charlie" sign under the headline "All is forgiven".
It has already drawn ire from Muslim groups in some countries that oppose depictions of Islam's founder.
The magazine has printed up to three million copies of its "survivors' issue" — profit from which will go to victims' families. That dwarfs its usual 60,000 print run.
"Our Mohammed is above all just a guy who is crying," said cartoonist Luz, who designed the new front cover. "He is much nicer than the one followed by the gunmen."