Abiodun Onafuye/Abeokuta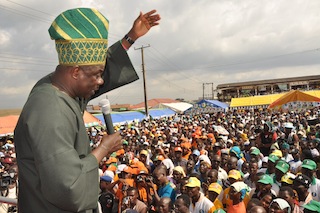 Governor Ibikunle Amosun of Ogun State, western Nigeria, has declared that he is not intimidated by the campaigns from the opposition parties, the Peoples Democratic Party and the Social Democratic Party, against his re-election.
On the contrary, the governor said his confidence is boosted by the support he enjoys from the 'good people' of the state. The governor urged the people not to be deceived by the antics of the opposition and reject them with their votes.
Amosun stated this on Thursday when speaking with newsmen in Ago Iwoye during his re- electioneering campaign rally to Ijebu North local government council.
He was responding to the booing and jeering of SDP supporters by a spontaneous crowd at several points in Abeokuta on Wednesday as the party flagged off rally of the party held at Ake Palace ground.
The governor said what happened that day was a pointer towards what the opposition will witness on election day.
According to him," what happened yesterday,(Wednesday). I pray that it will never happen to me in my political carreer. I was going to Aiyetoro and I saw buses, they were all inside the buses. The people on the street were shouting 'thief', 'thief' at them and throwing pure water on them.
"I had to personally come down and stop them. The people around said they even brought thugs to attack them, but I stopped them and told them that what we will use to fight them is our vote. The people did not know I was around. They (the SDP supporters) were not happy about it just like what happened at the PDP campaign rally.
"It is not a hidden thing,you people can go to their areas and confirm it.The market men and women at Itoku market came out massively with brooms and water to sweep away their legs. From Odo Oyo down to Enugada,similar things happened and that will tell you that our people knows what they are doing and what is good for them.
"No matter what they may be saying, Ogun people are not fools,they are intelligent people and they have decided where they are going. We have one month to go, we shall see,"Amosun said.
On the likely outcome of the election with both SDP and PDP candidates coming from Ogun West Senatorial District,the governor expressed optimism in his victory after the poll.
"I have every cause to thank God,we have done it before and with God on our side and the support of the good people of this State,we will repeat the same feat.In 2011,if you look at the margin between me and my very good brother,General Olurin,it was not too much. Some said the election was rigged but I won excellently in the previous election. I am generally accepted by people in the State," the governor explained.
Amosun however promised the good people of Ago Iwoye that the popular Igan road will be done,adding that," we are going to work on other places yet to be touched. There is no way we can finish the job within three and half years.They have been coming around now to deceive you,they said we have not done anything for you. Ask them why they failed to do it when they were there for eight years.So don't lsten to them," Amosun added.