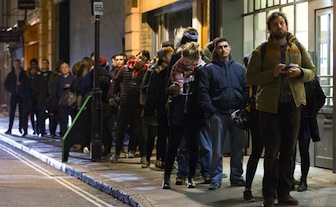 Londoners lined up by the hundreds on Friday to buy copies of French magazine Charlie Hebdo, as religious leaders met at the British capital's main mosque calling for respect for believers.
Around 200 people queued up in South Kensington, home to much of the city's large French community, outside two French bookshops stocking the latest edition of the magazine that was the focus of last Wednesday's deadly terror attack in Paris.
Small groups of customers were let into the tiny Libraire La Page as it opened at 8:15 am (0815 GMT), battling their way through ranks of photographers and cameramen to buy one of the shop's 360 copies, priced at £3.50 ($5.30, 4.60 euros) each.
"This will go in a picture frame up on the wall," said composer Matthew Acheson, 35, one of the first to get his hands on a copy, depicting the Prophet Mohammed on its cover.
"You should be able to write whatever you want to write, you shouldn't be cowed by an archaic system of belief. That doesn't just mean Islam, it means every form of religion," he added.
"Every newspaper in the country should be publishing the photo of the cover."
London is often described as France's "sixth city" with an estimated expat population of between 300,000 and 400,000.
A staff member at the bookshop, who wished not to be named, said it had been an "obvious" decision by the manager and co-workers to stock the magazine.
"We are not afraid, we are just doing something we think is right. We don't want to offend anyone, but I can perfectly understand why people don't like it," she said.
– 'Freedom not to offend' –
School student Amelia Wightwick, 16, proudly held up her copy, saying that it could provoke lively debate later in the classroom.
"I attend an international school, so it could be quite controversial," she explained. "I'll tell my friends, but I know who I need to avoid telling".
In the busy central Soho district, newsagents had been due to start selling an English edition of the magazine overnight.
People had gathered outside but dispersed when told there were no immediate prospects of delivery.
One of them, school student Sidney Draper, 18, was first in one of the lines and waited three hours in freezing weather.
"It's just to see for myself," he said. "I might read it and not like it at all, but it's about the freedom to make your own judgement."
Radio producer James Wilson said the world had been gripped by the "grim magnitude" of the Paris attacks that claimed 17 lives, many of them Charlie Hebdo employees.
"To be killed in an editorial meeting, albeit for an offensive magazine, with a pen in hand, is probably what's triggered this," he said.
The Muslim Council of Britain later held an interfaith "unity gathering" at the Islamic Cultural Centre, Regent's Park Mosque in north London.
Shuja Shafi, secretary general of the council, denounced the attacks, but called for respect for religious believers.
"There's freedom of expression, but there is also freedom not to offend, a duty not to offend," he said.
"The Prophet is very much close to us and anything that actually puts anything in a derogatory fashion will hurt us. But… nothing like this justifies killing."
Vivian Wineman, president of the Jewish Leadership Council's board of deputies, stressed that society "should be sensitive to the attitudes of other communities" but that "freedom of thought and freedom of expression are paramount."