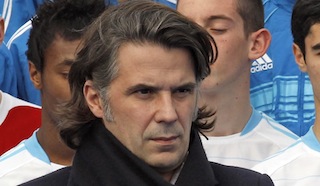 French police on Tuesday arrested about 10 people, including player agents and suspected crime figures, as part of an inquiry into transfers by French high flyers Marseille, police sources said.
The suspect transfers date back to 2010 and include that of French international striker Andre-Pierre Gignac.
The club management has since changed. But president Vincent Labrune as well as several former leaders were among people held for questioning in November as the inquiry gathered pace.
"Among the people detained are player agents and their associates but also people known to belong to the criminal underworld," one police source told AFP of the latest arrests.
Police launched their investigation in 2011 into suspicions that proceeds from transfers went to crime gangs or were illegally diverted.
About 15 people including Labrune and former Marseille presidents Jean-Claude Dassier and Pape Diouf were briefly held for questioning in November.
Documents on Gignac's 2010 transfer from Toulouse were seized in the November raids on the club and agents.
The sources said the investigation is now focusing on agents involved in the transfers and whether the true figures involved in the deals were declared to authorities.
Marseille lost their 1993 French title after being found guilty of fixing the result of a match against Valenciennes — which they won 1-0 — so they could keep players fresh for the European Cup final, which they won six days later against AC Milan.
Marseille are currently second in the French championship, one point behind leaders Lyon.