Hundred of youths took to the streets near the palace of the Sultan of the northern Nigerian city of Sokoto, to carry out a symbolic sweeping of the floor shortly after President Goodluck Jonathan and leaders of the Peoples Democratic Party, PDP, left the Sultan's palace to Shehu Kangiwa Square on Monday to hold a rally.
Malam Ibrahim Musa, one of the sweepers said the exercise was to demonstrate to the PDP leaders that the people of the state are bent on ensuring total victory for the APC Presidential candidate, General Muhammadu Buhari.
"You can see things for yourself. Mr President just passed and we youths mobilized ourselves to clear our area for peace, progress and political growth of our country," he said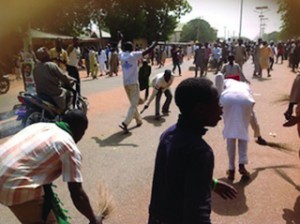 Another sweeper, Alhaji Abdullahi Isa described the symbolic sweeping of the roads as a clear indication that Nigerians need a change of leadership direction.
"Nothing seem to be moving hence the need for well meaning Nigerians to support the cause of political change being championed by the progressives," he said.
He said that no one asked the youths to sweep the road, adding that they came out to demonstrate that they were tired of the maladministration of the PDP-led government.
"I have three graduates in my house. there is no work for them," he said.
He said that PDP should forget Sokoto and indeed the northwest because the people have spoken their minds.
"Mr President, don't listen to failed politicians who have nothing to offer, " he said.
The President had earlier paid a courtesy visit on Sultan Saad Abubakar at his palace where he promised to accord priority to the provision of modern farming inputs and education in the state.
He said that the PDP led administration will continue to accord great respect to Sultanate council as well as traditional rulers for the useful contribution towards promoting peaceful coexistence.
Jonathan also informed Sultan Abubakar that he was in Sokoto to formally present the party candidates before their teeming supporters.
He said that the candidates if elected will meet the expectation of the electorate in ensuring good democratic governance.
Sultan Abubkar told President Jonathan that the federal government should do more in confronting the present security challenges facing the country.
He said that muslims must be seen practicing their religion in a peaceful atmosphere and this would only be possible if the federal government introduced stringent security measures that would gurantee the safety of all and sundry at home, the places of worship and public places.