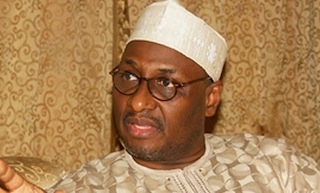 The National Chairman of PDP, Alhaji Adamu Muazu, on Tuesday, urged Nigerians not to vote along religious and ethnic lines in the February elections.
He made the call in Katsina during the PDP Presidential campaign and urged the people to vote for the PDP, the only party that has national outlook.
The PDP national chairman urged Nigerians to vote the PDP as it would continue to unite Nigerians.
He said "do not be deceived by some people who use religion or ethnic sentiments to solicit for your votes.''
Earlier, the Katsina PDP governorship candidate, Alhaji Musa Nashuni, had promised to continue with the developmental projects of his predecessor, Gov. Ibrahim Shema.
Nashuni urged the people of the state to come out en masse to vote for PDP candidates during the general elections.
Alhaji Musa Sada, the Minister of Mines and Steel Development, called on the electorate to give PDP massive support in the forthcoming general elections.