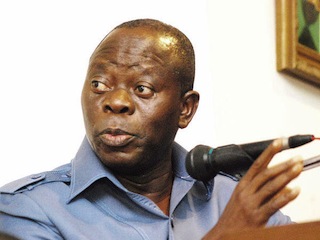 Governor Adams Oshiomhole of Edo has called on traditional rulers in the state and country to pray for a peaceful election in February.
Oshiomhole made the call on Friday in Igarra, AKoko-Edo Local Government Area, during the All Progressives Congress (APC) campaigns across local government areas in the state.
He stressed the need for a peaceful election and urged the royal fathers to pray for peace, stability and free and fair elections.
The governor stated that the royal fathers had always been instrument of peace, a prerequisite for sustainable development.
He also stated that the issues to be considered as Nigerians head for the polls should be survival and not religion.
He said Nigerians must make a bold decision during the election by choosing the best candidates as their leaders.
Responding, The Otaru of Igarra, Oba Emmanuel Saiki, said that politicians had a duty to the electorate to render good and selfless service.
He urged the politicians to campaign and sell their manifesto by telling the people what they would do for them.