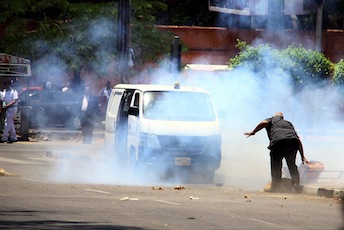 A bomb blast wounded a policeman in Cairo on Sunday, the interior ministry said, as Egypt tightened security on the fourth anniversary of the 2011 uprising that ousted ex-strongman Hosni Mubarak.
Armoured vehicles were stationed around Cairo's iconic Tahrir Square — the epicentre of the revolt against Mubarak — after Islamists called for protests on Sunday against President Abdel Fattah al-Sisi.
Former army chief Sisi toppled Mubarak's Islamist successor Mohamed Morsi in July 2013 and has since led a crackdown on Morsi supporters that has left hundreds dead.
Jihadist militants have regularly targeted security forces since Morsi's ouster, killing scores of policemen and soldiers.
The interior ministry said Sunday's bomb exploded in eastern Cairo's Alf Maskan neighbourhood, where a similar blast on Friday claimed by jihadist group Ajnad Misr wounded four policemen and a civilian.
It provided no further details on the blast or the condition of the wounded police officer.
Tensions have been running high ahead of Sunday's anniversary and a female demonstrator was killed in clashes with police during a rare leftwing protest in central Cairo on Saturday.
Shaima al-Sabbagh, who friends said was 34 and the mother of a five-year-old boy, died of birdshot wounds, a health ministry spokesman said.
Fellow protesters said she was hit by birdshot when police fired to disperse the march. The prosecutor has now launched a probe into her death.
An 18-year-old female protester was also killed on Friday in clashes in the Mediterranean city of Alexandria.
Police have warned they would "decisively" confront protests on Sunday. Morsi's supporters often hold small rallies that police quickly disperse.
The revolt against Mubarak erupted on January 25, 2011, with hundreds of thousands of protesters taking to the streets across Egypt for 18 days until he stepped down.
The anti-Mubarak revolt was fuelled by police abuses and the corruption of the strongman's three-decade rule, but the police have since regained popularity amid widespread yearning for stability.