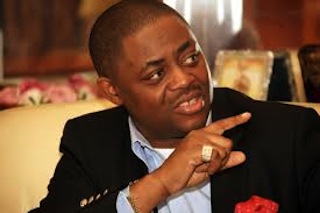 The PDP Presidential Campaign Organisation has denied manipulating a document from Cambridge University to justify claims that General Muhammadu Buhari's West African School Certificate statement of result was forged.
Femi Fani-Kayode, Director of Media and Publicity of the organisation made the denial in a statement signed by his Special Assistant, Mr Sufuyan Ojeifo, in Abuja on Tuesday.
The statement said the allegation by the All Progressives Congress (APC) was indicative of its desperation for power.
The APC had alleged that Fani-Kayode manipulated the alleged certificate of General Mohammad Buhari, its presidential candidate.
The certificate emerged in the media following series of controversies surrounding it and Buhari`s eligibility to contest the presidential election on Feb. 14.
"Fani-Kayode never issued a statement in his capacity as spokesperson for the PDP Presidential Campaign. Neither did he address a press conference nor briefing where he referred to the Cambridge document in question.
"He also did not validate the content of the said document on any occasion," the statement said.
It added that as far as Fani-Kayode was concerned, he did not know of the existence of the said Cambridge e-mail document and what the content was all about.
It maintained that the director of media and publicity never commented on the content of the document.
According to the statement, Fani-Kayode has not been in touch with Cambridge to request for any information in respect of the issue in question.
"What he has done, especially during his last press conference on Gen. Buhari's published statement of result, was to make assertions to the effect that the statement of result was forged.
"He added that the result was illegally procured," the statement said.
It noted that Fani-Kayode had also called on the police to track down the masterminds of the forgery at the press briefing.
"The allegation of manipulation against Chief Fani-Kayode is, therefore, indicative of desperation by the opposition who should have spoken on the issue of whether or not Buhari has a certificate or not."