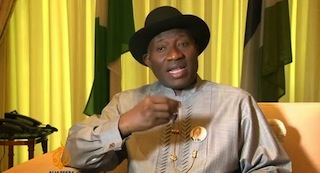 President Goodluck Jonathan said that the Nigerian Military had on Thursday liberated Michika town in Adamawa from the control of the Boko Haram insurgents.
Jonathan made the announcement at the Peoples Democratic Party Presidential Campaign rally in Yola.
The president also unfolded plans by the military to liberate Madagali town soon, adding that the area was the only remaining local government in Adamawa yet to be liberated from the insurgents.
"Before this time, five local government areas in Adamawa were under the control of Boko Haram.
"But today, Michika Local Government Area of Adamawa has been recaptured from Boko Haram. And the only remaining local government, Madagali, will insha Allahu, be liberated."
Jonathan re-iterated his administration's commitment to recapture all the occupied territories in Adamawa, Borno and Yobe states.
He dismissed insinuations from some quarters that the Presidency was behind Boko Haram activity in the North east region for political advantages.
"I know the burden I am carrying because of Boko Haram and the daily conversations I used to have with some World leaders," Jonathan said.
He said that he would never forget Adamawa for being kind to him in the 2011 general elections, where he got over 65 per cent votes.
On the PDP governorship candidate in the state, Malam Nuhu Ribadu, the president said Ribadu was an experienced person that he would work together with to bring an end to Boko Haram.
In his address, the Vice President Namadi Sambo equally announced the award of contract for the constructions of Kiri and Jada dams in state.
He said that the projects would serve the purpose of hydro-electric power and agriculture.
According to him, the two projects, if completed, will boost economic activities and create more jobs opportunity for the people of the state.
He also said that the Jonathan-led administration would dredge River Benue to Yola to improve water ways transportations.
"Let me announce to you that President Goodluck Ebele Jonathan has awarded the construction of Kiri and Jada dams.
"These projects will serve the purposes of hydro electricity power and agriculture, which will boost economic activities.
"I also have good news for you that Mr President has approved the dredging of River Benue to Yola."
Also addressing party faithful, Prof Jibril Aminu, former Senator representing Adamawa Central senatorial district, said that Jonathan's landmark achievements qualified him for re-election.
Aminu said that jonathan's profile was a pride to the educated elite.
"Late President Umaru Yar'adua was the first university graduate to emerge as Nigerian president.
"Your academic qualification is a pride to those of us in education, especially those of us from the university community and for this, I say carry go."
He also gave an assurance that the state would vote PDP as it had always done in the past.
According to him, Adamawa has been a PDP state and it will continue to be a PDP state.