Taiwo Adelu
Former Nigerian international, Chief Paul Lucky Okoku has described the death of his colleague in the senior national team, Wilfred Agbonavbare, as a great loss to Nigerian football.
The vice-captain of the 1982/1983 Flying Eagles said he received the death of the goalkeeper with shock and grief. Okoku recalled how Agbonavbare's wife died three years ago of breast cancer and incidentally, Agbonvbare now succumbed to throat cancer.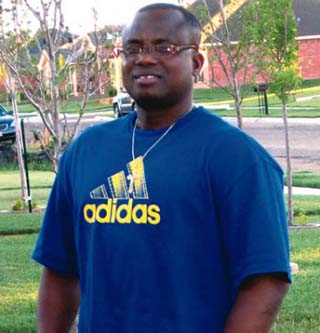 In his tribute, Okoku said: "I wasn't surprised when I read that you spent all the money you earned from playing professional football on your wife's medical bills so that her treatment would not be interrupted due to lack of funds when she was diagnosed with breast cancer. It was an act of ultimate submission to a wife diagnosed with breast cancer depriving yourself of unbounded life of luxury in an attempt to ensure that the mother of your children lived.
"This sacrifice was a class act that depicts a model citizen represented in an unassuming circumstance. You were a man of character, a loving father, and quiet, humbled personality, loved to smile, dedicated and devoted husband, one that was invoked with God's fearing.
"You were a professional in every measurement who cared less about status quo; where ex-internationals have been condemned or indicted for taken menial jobs for survival, like driving a cab or selling ice crème, rather, instead of becoming a nuisance or a public charge, you took a job as a porter at the Madrid Barajas Airport, a hard job, for yon to provide for your children and not doused in self-pity.
"You were a shining example to many of us, ex-internationals. Where people may have seen weakness, I saw strength. I doff my hat to you my friend. Wilfred was once the toast of Nigerian football's stage and suddenly the cotton has been pulled on him for he had played his part and left the stage."
Okoku, who established Greater Tomorrow Children Foundation to alleviate the suffering of less privileged children in Nigeria, said he and other colleagues in the Flying Eagles set of 1983 made history with Agbonavbare, saying "we made history together when our Flying Eagles of 1983, became the first team to represent Nigeria in her first ever World Cup, at any level. Then we won the first WAFU gold medal, in the history of Nigeria when we defeated Ghana in the finals, in October of 1983. Ultimately, we became the best junior national team in Africa, in 1982, winning the gold medals when we defeated the Yusuf Fofana-led Ivorian team. Subsequently, in 1984, we became the first Super Eagles to reach the finals of AFCON, outside Nigeria, when we won silver medals, losing to the Roger Miller and Theophilo Abega-led Cameroonian team. You also made history, in 1994, as a member of the Super Eagles that won AFCON gold medals, outside Nigeria. There were many more record breaking performances I am sure you were involved in."
He commended the Spanish club Agbonavbare played with for showing a sense of decency and fascinating thoughtfulness to show concern right off the bat as they raised €21,000 Euros to sponsor his children to Spain. "This initiative was done to allow his children to see their dying father for the last time. My most humble regards to them for their ingenuity," he said.
He concluded that the campaign to impress upon the Federal Government of Nigeria to convert the scholarship promised 1983 Flying Eagles to cash reward will still go on, adding that "when my colleagues and I asked that the scholarship promised us be converted to financial reward, it was mainly to help foot Wilfred's medical bills because he specifically asked for prayers and financial support from his friends, teammates and all kind-hearted Nigerians. We did our best Wilfred, we did. Consequently, however, we are not going to exploit our emotions to drive our campaign at this reversal of fortune in a sudden twist of change of faith. We have trust in the leadership of both the Minister of Sports, Tammy Danagogo and the Director General of National Sports Commission, Gbenga Elegbeleye. Instead, we thank them for making recommendations to his President Goodluck Jonathan on our behalf. And, we truly believed that they had spoken from their heart, heart-felt words of approval for our crusade."