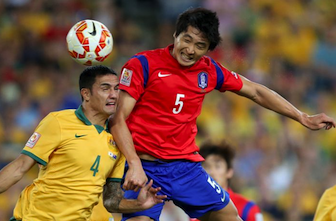 James Troisi's extra-time winner fired Australia to their first Asian Cup title as they downed South Korea 2-1 in a gripping final on Saturday.
Son Heung-Min's last-gasp equaliser forced the extra period but Troisi crashed home the winner after fine work from fellow substitute Tomi Juric in the 105th minute.
After the match, Australia boss Ange Postecoglou said the Socceroos were ready to "take on the world" after they won a gripping final against South Korea to lift the Asian Cup trophy on Saturday.
Postecoglou said Australia could now go on to bigger and better things after they won their first Asian Cup at the third attempt after joining the Asian confederation in 2006.
James Troisi's extra-time winner settled a thrilling clash after Son Heung-Min cancelled out Massimo Luongo's opener in the dying seconds of normal time.
"That's the biggest thing for me, just to look around this stadium and the whole country will be off their couches and won't be able to sleep tonight," Postecoglou said.
"It's a great game, I'm biased but I think it's the greatest game in the world. Hopefully from now on us Aussies can take on the world with it because I have a real belief in these guys."
Australia's win could be hugely important for football in the country as it strives to challenge the more established sports like rugby and cricket.
Postecoglou, who said this week that teams from the region should concentrate on winning the World Cup, will now set his sights on qualifying for the next edition in 2018.
"It was a super effort from everyone, the players the staff, the whole organisation. I couldn't be happier," Postecoglou said, as his jubilant players celebrated nearby.
"It was a different kind of game tonight. It was tough, it was a final, you got to grind it out and no one knows better than me that it never goes to script, there were twists, and the courage the players showed tonight was enormous.
"My only concern because we conceded so late the boys they had heartbreak and couldn't pick themselves up but I knew we'd finish stronger.
"We pride ourselves on being very fit and working hard. It was just a matter of taking our chance and we did and I'm super proud of them."