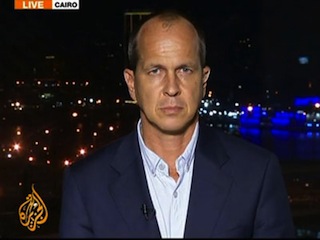 Egypt has decided to deport jailed Australian reporter Peter Greste to his home country, a senior interior ministry official told AFP on Sunday.
"There is a presidential decision to deport Peter Greste to Australia," the official told AFP.
Greste had been sentenced to seven years in prison along with a fellow Al-Jazeera reporter, Canadian-Egyptian Mohamed Fahmy, for allegedly aiding the blacklisted Muslim Brotherhood group.
Their Egyptian Al-Jazeera colleague Baher Mohamed was also sentenced to 10 years.
There was no immediate indication of whether Fahmy and Mohamed would be released as well.
Greste and Fahmy are eligible for deportation under a recent law enacted by President Abdel Fattah al-Sisi allowing the deportation of foreigners to stand trial or serve their sentences in their home countries.
There is no prospect that Greste or Fahmy would face trials in their home countries and Sisi's decree appears to have been formulated in a way that allows Egypt's authorities to save face.
The arrest of the reporters in December 2013 prompted a global outcry, with Washington and the United Nations leading calls for their release.
An Egyptian court had in January ordered a retrial of the three men.

Load more