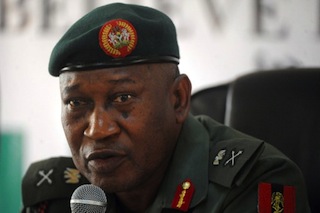 The Defence Headquarters has assured that Nigeria's territorial integrity had in no way been compromised by the cooperation with countries making up Lake Chad Basin Commission against Boko Haram terrorists.
This assurance was contained in a statement posted on the Defence Headquarter's website accessed in Abuja on Tuesday.
The statement said: The Multinational Joint Task Force (MNJTF) in which Nigeria, Niger, Cameroon, and Chad have contingents, are part of the ongoing onslaught against terrorists in this region.
It added that the countries that make up the Lake Chad Basin Commission also had some understanding, which now enables a massive move against terrorists from all angles.
"Contrary to impression in some quarters, it is Nigerian forces that planned and are driving the present onslaught against terrorists from all fronts in Nigeria, not the Chadian Forces as being propagated by some media.
"For instance, Chadian forces have been deployed in Baga Sola, which is a Chadian territory.
"There have been some joint deployments and patrols around Kirawa, Ashgashiya and other locations along the border with Cameroun, Nigeria and Chad as part of these operations.
"Chadians and others are, however, keying into and working in concert with the overall plan for an all-round move against the terrorists as agreed," it added.

Load more