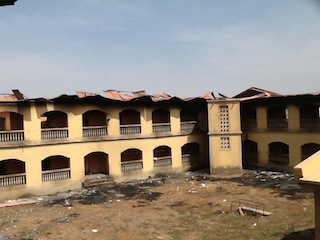 Authorities of Shehu Idris College of Health Science Technology, Makarfi, Kaduna State, have shut its main campus following a fire outbreak in the female hostel.
NAN learnt that the fire destroyed 25 rooms in the "female hostel block B" on Friday evening and so left 200 students without accommodation.
The Provost of the college, Mr Musa Garba-Abdullahi, told newsmen on Saturday that the college had been closed and examinations suspended.
"We have already started the first semester examination, which we are supposed to have completed on Wednesday, Feb. 12, but this ugly incident happened.
"We decided to shut down the main campus and the examination suspended till further notice," he said.
The provost, however, said that there was no loss of life because the incident happened while the students were writing their examinations.
The provost said the state Ministry of Heath was informed before the closure of the college.
Garba-Abdullahi said a committee, comprising the police, State Security Service and college staff had been set up to ascertain the cause and extent of damage from the fire.
The committee, according to him, is also saddled with the responsibility of proffering short and long term solutions to the problem.
He said that the ongoing examinations at Tudun-Wada Kaduna and Pambeguwa campuses would, however, continue.
The provost appealed to parents not to panic as all necessary measures had been put in place to ensure safety of all students.

Load more