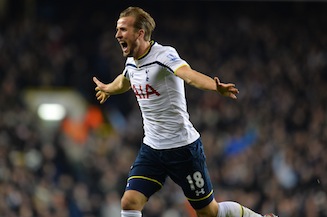 Tottenham midfielder Ryan Mason says his side can put in a serious bid for a top four finish in the Premier League and a place in next season's Champions League after Harry Kane inspired them to a 2-1 victory over arch rivals Arsenal.
The 21-year-old's double on Saturday, including a brilliant header with four minutes left at White Hart Lane, ended Arsenal's five game winning streak and lifted Mauricio Pochettino's men up to fifth and only behind Manchester United on goal difference.
Arsenal are sixth a point adrift of Spurs and United.
Southampton, who edged QPR 1-0 with an injury time winner, are two points above Spurs in third spot while Manchester City are also in view after a 1-1 draw at home to Hull sees them six points ahead.
Chelsea lead the way and are seven points clear at the top following a 2-1 win at Aston Villa while United face West Ham at Upton Park in the final match of the weekend on Sunday.
"He (Kane) is remarkable! He leads the line on his own and does it unbelievably well," said Mason about his teammate who has bagged 22 goals in all competitions this season.
"You can see the way he is at the moment that he is on fire and can't stop scoring."
While Arsene Wenger has never failed to guide Arsenal above the White Hart Lane outfit, since taking over in 1996, Mason believes the club are on the brink of breaking into the top four and sealing a place in next season's Champions League.
"We believe – of course we do," said 23-year-old Mason.
"We did the same thing to Chelsea a little while ago and hopefully we can keep doing well and stay up there.
"It will be difficult (to make the top four) but we are confident in ourselves.
"We're on a good run and the team spirit is amazing. Everyone gets on with each other well.
"It is great to come in off the back of a win and we are buzzing. It's a great feeling." concluded Mason.
Tottenham travel to Liverpool on Tuesday while Arsenal are at Aston Villa as part of a busy midweek Premier League schedule.

Load more