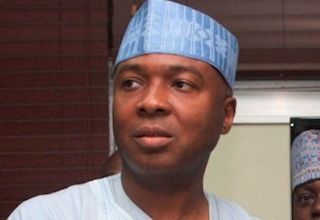 Senator Bukola Saraki has believes that the postponement of the 2015 general elections is an obstruction to the growth of democracy in Nigeria, noting that, the Independent National Electoral Commission (INEC) is expected to act independently.
In a statement of his Facebook wall, the former governor of Kwara state stated that for over three years the president failed to make national security a priority until now.
"While we recognise the severity of the security challenges facing Nigeria today, sadly, these challenges are not new. It has been almost a year since Boko Haram kidnapped 200 of our schoolgirls in Chibok. Thousands of men, women, and children have now died at the hands of Boko Haram and thousands are displaced. However, security should not be used as an excuse to delay our elections and obstruct democracy," the statement said.
"The delay in elections is an obstruction of democracy led by President Goodluck Jonathan and PDP. APC has been calling for a free, fair, and transparent elections for our country. The delay in elections hinders this call. INEC is expected to act independently but unfortunately is being guided by government who believe they are about to lose an election and have decided to stop the election to re-strategize. For the first time in Nigeria, we are seeing a seating government run away from election."
"For over three years, President Jonathan has failed to make national security a priority. How then does President Jonathan now expect the people to believe him when he says he will tackle the terrorist group in six weeks?," the senator representing Kwara central asked.
He noted that countries like the United State and United Kingdom were disappointed by the postponement. "The international community has continued to support our view that there must be peaceful, free, transparent and credible electoral processes in Nigeria and that the country's security forces would remain impartial so Nigerians can vote safely and without undue delay. They are disappointed about the recently announced postponement. President Jonathan and INEC must be aware that the eyes of the world are on them."
Saraki then pleaded with Nigerians to be calm. "I charge Nigerians to be calm, non-violent and steadfast. We must be determined to make sure postponement does not demoralize or disenfranchise us. We must see this as a challenge for us to remain resolute in yearning for a new democratic government; one that will not see itself as above the people."
"As soon as the National Assembly reconvene, we will look into this issue of postponement and take steps to ensure that our electoral process is not tampered with any further. As leaders of this nation, it is our duty to protect our nascent democracy," the statement read.

Load more