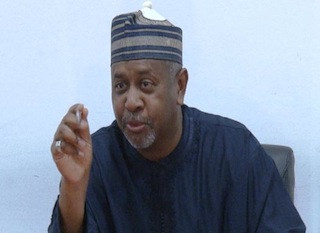 In August 1985, the evening of the 26th to be specific, at a time when Nigerians were celebrating the Muslim festival and enjoying the public holiday, a soldier named Ibrahim Badamosi Babangida was executing his plans of overthrowing the Nigerian Head of State, Major-General Muhammadu Buhari.
One of the soldiers who arrested Buhari at gunpoint was a soldier named SAMBO DASUKI.
After Buhari was arrested and his government toppled, IBB threw him into prison and handsomely rewarded Dasuki by making him his ADC (aide-de-camp).
Sambo Dasuki was one of the four army majors that arrested Buhari at gunpoint that day. Others were Abubakar Dangiwa Umar, Lawan Gwadabe, Abdulmumuni Aminu.
Buhari was left to rot in jail for two years and this wrecked his family life so bad that it led to a divorce with Safinatu, his beloved wife upon his release.
While Buhari was also in jail, Babangida sent soldiers to ransack and vandalize his residence, in the process destroying some of Buhari's most valuable credentials and valuables.
Let me skip what happened to Sambo Dasuki and his father the former Sultan of Sokoto under General Abacha to today. He has been appointed as the National Security Adviser to President Jonathan and you really think Sambo Dasuki will want the elections to go on and Buhari become the President of Nigeria?
Think again, what is going on has nothing to do with PVCs or bla bla bla. It is all about the interests of a few people strangling the country. I think all Nigerians should remain calm and read more and see how the game is played with the destinies of the almost 200 million of us. Things are not always what they seem to be.
*This write-up was provided by Konra, one of our readers

Load more