Abiodun Onafuye/Abeokuta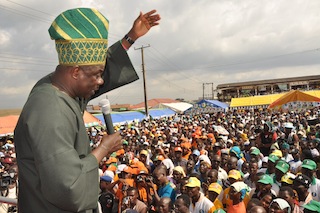 Governor Ibikunle Amosun of Ogun state today came hard on the ruling Peoples Democratic Party (PDP) as he declared that the party is afraid of facing elections in the country with the current tsunami of General Muhammed Buhari movement.
Amosun posited that the date can be changed or shifted as it has been done but that it will never hamper the success and victory of the All Progressives Congress (APC) at the polls.
He advised the people to be vigilant and curious in their various locality as the opposition is doing everything humanly possible to rig the elections which made them to 'force' the Independent National Electoral Commission, INEC to postpone the elections.
Amosun disclosed this in Tuesday at Ilewo-Ishaga ward 15 in Abeokuta North local government area of the state during his ward to ward campaign of his re-election.
According to him: "They are afraid of the elections, if they like they should postpone it again, their days are number. Whatever they like, let them do, they have no more power beyond what they have done.
"Buhari will win and that victory has been ordained by Allah. Nothing they can do to that can utter it, so let them continue with their plans, God's plans supersedes their own," Amosun boasted.
Corroborating the governor's view, a member of the State House of Assembly representing Abeokuta North local government, Hon. Olayiwola Ojodu said the postponement is a blessing in disguise for the party.
Ojodu, who is the Chairman, House Committee on Information and the candidate for the local government in the coming elections disclosed that: "whether the reason is tenable or not, we are fully ready as we will again commence another round of campaign to gear our people up especially, in mobilising them for their voters' cards."
Meanwhile, Governor Ibikunle Amosun of Ogun state on Monday has disclosed that the postponement of the general elections would not affect the chances of the All Progressive Congress (APC) in the country.
Amosun also urged the Independent National Electoral Commission (INEC) to address every grey areas, especially the distribution of the Permanent Voters Cards, PVCs to all eligible voters before the new election dates without leaving any stone unturned.
The governor said this during his ward-to-ward re-election campaign rally in Abeokuta South Local Government Area of the state.
Amosun noted that his party was ready for the elections before it was rescheduled by INEC on Saturday.
"I want to urge all of you to go out and collect your PVC. This is the only tool that can use to exercise your civil responsibility. INEC should not disenfranchise the people, they should make sure that the PVC's are available and also make sure that the distribution point are closer to the people," Amosun posited.

Load more