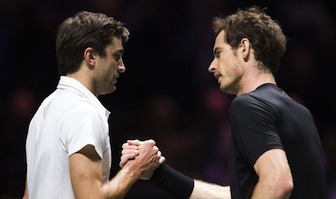 Frenchman Gilles Simon ended a 12-match loss streak to Andy Murray as he dumped the top seed out in the quarter-finals of the ATP Rotterdam World Tennis event on Friday.
The persistent challenger stood 1-12 against the two-time Grand Slam winner and unleashed one of his best performances to stage the 6-4, 6-2 upset.
Murray, who went down double breaks at the start of each set, confessed to getting off to a poor start; the recent Australian Open finalist admitting he never found the rhythm to recover.
"I struggled with most shots and I had a poor start," said the world number four who won the Dutch title in 2009.
"I felt like it was tough hitting the ball in the slower conditions.
"My timing was well off. Simon is a top, top player who has been around the top 20 for most of his career. None of the matches I've won against him have been easy. He fights to the end and likes to extend the rallies.
"That's his game. I didn't feel tired but I certainly did not start well. I was not hitting the ball well from the back of the court and I made a lot of mistakes in the rallies."
Simon will take a 6-3 record into his semi-final with defending champion Tomas Berdych, who scraped his knuckles during a second-set fall on court on the way to a defeat of Gael Monfils 6-1, 6-4.
– 'not afraid at all' –
"I've lost so many times to Murray that I'm not afraid at all," said the 19th-ranked French winner. "I know his game so well, there are no surprises. I knew what to expect and so did he.
"It was hard for me at the end to close it out, but the win was really worth it.
"Playing him gets easier every time that I do it. I'm happy that I was successful today. Against Berdych I hope to continue just like this."
Berdych has now reached his third ATP semi-final of the season after posting his fourth win from five meetings with quirky French player Monfils, a former world number seven now ranked 21st.
Berdych landed on his hand in the third game of the second set and had the trainer out to take a look before playing on without incident.
The Czech fired seven aces among his 32 winners during the 71-minute match, breaking on three of nine occasions and never facing a break point.
Monfils, whose enthusiastic game can go on and off the boil in an instant, saved a match point in the penultimate game before Berdych set up two more match-winners with a forehand cross-court.
The third seed advanced on the first chance, from a Monfils error.
"It was a tough match and not as easy as the score showed," said Berdych, a finalist at Doha and an Australian Open semi-finalist last month.
"I needed to play well and stay solid," he said. "I'm feeling good with my game, I'm satisfied with how I'm playing. For the next match I have to keep this up and improve to be ready for the next opponent."

Load more