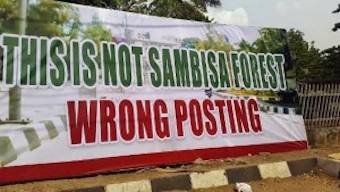 Asiwaju Bola Ahmed Tinubu, the national leader of the All Progressives Congress surely has a sense of humour.
After withstanding several days of intimidation by some unidentified Nigerian soldiers around his Ikoyi home in Lagos, has put two large banners mocking the soldiers and whoever sent them:
The big banners, with the same message were found around his home Friday morning, with the message: This is not Sambisa Forest : wrong Posting.
Sambisa was the hiding place of Boko Haram in Borno State that Nigerian military at a stage dreaded to attack, in the festering war against Boko Haram.
Hoping the military authorities will understand the message: face war against the insurgents, leave the armless civilians alone

Load more