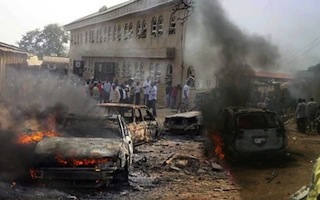 Eleven people were killed in a suicide bomb attack on a checkpoint near the town of Biu in northeast Nigeria on Tuesday, a vigilante and a resident said.
Gana Sheriff, the vigilante, said the attack happened at about 1:00 pm (1200 GMT) at Yamarkumi village, four kilometres (2.5 miles) from Biu in Borno state.
"It was a suicide attack by three men in a motorised tricycle. They killed 11 people, including Civilian JTF (joint task force) and child vendors at the checkpoint," he said.
"It was later that we realised the attackers came in two rickshaws. The one ahead had three people inside who opened fire and detonated three explosives.
"The second rickshaw immediately turned after the explosions but was pursued into the bush by soldiers and local hunters."
Tijjani Kanta, a local resident who was at the Biu General Hospital, said there were 14 dead bodies at the hospital, three of them the attackers.
"Three of them belonged to the attackers. The other 11 were of the vigilantes and children selling articles to motorists at the checkpoint," Kanta added.
The attack came five days after at least seven people were killed when a female suicide bomber blew herself up at a crowded market in Biu, which is the biggest town in southern Borno.
Boko Haram has made several attempts to seize the town, 180 km from the state capital, Maiduguri, but has been pushed back by troops and local vigilantes.
Last month troops aided by vigilantes repelled an attempted incursion by Boko Haram fighters, killing 40.

Load more