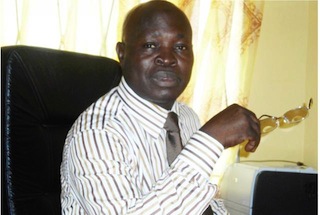 A non-governmental organisation, Muslim Rights Concern (MURIC), on Tuesday decried the attacks on the campaign offices of candidates of the Peoples Democratic Party (PDP) in Maiduguri.
A statement issued by the Director of MURIC, Prof. Ishaq Akintola, and made available to newsmen in Lagos, also condemned the destruction of the posters and billboards of the candidates.
MURIC spoke against the backdrop of reported acts of vandalism against several campaign offices and posters of the candidates of the PDP in Maiduguri on Monday during the presidential campaign rally of the All Progressives Congress (APC).
The statement said in part: "Muslim Rights Concern (MURIC) takes strong exception to this act of recklessness and unprovoked aggression.
"We commend the security agencies for exercising restraint in the face of such lawless behavior. It is unfortunate that 55 years after independence, Nigeria still wallows in a barbaric political culture. The current trend of political violence is repulsive, despicable and alarming.
"This trend is characterised by physical attacks on members of other political parties, vandalism, arson and even murder. The spectacle is disturbing because of its capability to discourage the injection of new blood into the political system.
"Elites and youths who have good ideas about moving Nigeria forward are most likely to be pissed off politics by the ugly phenomenon. The end result is the endless recycling of stone age politicians who are only marketable for their nuisance value."
The statement said the fact that the acts of violence involved mainly the PDP and APC was quite instructive. "It gives stakeholders an area of concentration.
"MURIC is optimistic that the trend can still be reversed if the police, elder statesmen, religious leaders, traditional rulers and other stakeholders call leaders of the PDP and APC to order now.
"We are aware that the Nigeria Police has organised peace meetings among political parties in most states of the federation. We commend the police for initiating this move. "But, just as the police alone cannot maintain security without the active support of the citizens, the police alone cannot successfully perform the task of peace-making in a political process.
"There is urgent need to involve people who can influence the citizenry.
"We, therefore, charge elder statesmen, religious leaders, traditional rulers and other stakeholders to take up the challenge immediately by calling leaders of the PDP and APC to the roundtable," it said.