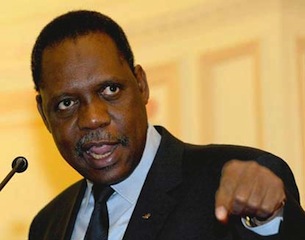 The Royal Moroccan Football Federation (FRMF) took its case to the Court of Arbitration for Sport (CAS) on Monday following sanctions dished out by the Confederation of African Football (CAF).
Morocco has been banned from the 2017 and 2019 Africa Cup of Nations after it decided not to host the 2015 edition amid fears over the Ebola crisis.
The country's football federation was also fined $1 million (€880,000) and ordered to pay just over €8 million ($9m) "for damages caused to the Confederation of African Football (CAF) and partners."
Its officials had called for the tournament to be delayed as concerns over the potential spread of the virus grew, and then declined to host it when that delay was not granted.
"We have taken our case to the CAS yesterday (Monday) and we will soon take it to the International Chamber of Commerce in Paris," FRMF spokesman Mohamed Makrouf told AFP.
"This is not a conflict with the CAF. The law allows to appeal and we will accept any decision from the court."
Head of Government Abdelilah Benkirane said on Thursday that Morocco will not accept the "unfair and arbitrary" sanctions placed upon it by the governing body of African football.
The Kingdom, he added, "cannot accept unreasonable and infringing measures against national interests".
The African division of global players' union FIFPro have hit out at African football bosses for their treatment of Morocco.
"It's not up to the African division of FIFPro to know whether Morocco acted within its rights in refusing to organise the last CAN," said a FIFPro statement.
"However, it is our place to express surprise that the CAF sanctions target first of all the players."

Load more