Funsho Arogundade
Nigeria's media circle was thrown into mourning Wednesday as the news of the death of Mr. Victor Dada Eriye, celebrity journalist and publisher, Bravo Weekly magazine, was announced.
Eriye died of cardiac arrest occasioned by complications from severe burns from a domestic accident at the Lagos University Teaching Hospital.
According to sources, Eriye suffered a first degree burn after his generator exploded while he was refuelling it in his Lagos home, western Nigeria.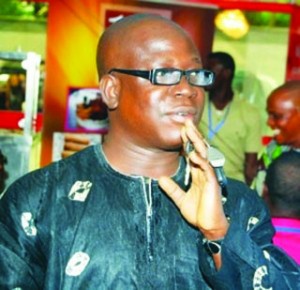 One of the sources narrated how the unfortunate incident occurred: "Eriye was fuelling his generator at about 11.30p.m. on Saturday. 14 February when the generating set exploded. The impact of the explosion caused him a severe first degree burn and he was quickly rushed to Lagos State University Teaching Hospital, LASUTH, Ikeja, Lagos. He was rejected by the doctors there and they advised he should be taken to National Orthopaedic Hospital, Igbobi, Lagos.
"At Igbobi, the hospital said they have just fumigated the hospital, so they cannot admit him. This prompted his family to move him to Lagos University Teaching Hospital, LUTH, Idi Araba, at about 2:00am on Sunday. While at LUTH, the hospital staff on duty said they had no bed so they couldn't treat him.
"The agonising Eriye was left for hours unattended to at LUTH. And after much pleading and crying by those who took him there, the hospital then allegedly demanded for a deposit of N250,000 to be paid at that hour before admission.
"The family started another round of crying and begging again that they would bring the money when banks open by Monday morning. By then he had been unconscious, reasons prevailed and was placed on life support machine at the intensive care unit at LUTH where he finally died of cardiac arrest."
The deceased career as a celebrity journalist spanned his time with defunct FAME Weekly, TEMPO, City People and News of The People, the last two as editor, before he floated his own title, Bravo Weekly, which he managed till his unfortunate death.
The popular celebrity journalist's avoidable death arising from Nigeria's poor electricity and health systems have been attracting rage from many.
In his early 50s, Eriye is survived by wife, children, grandchild, brothers and sisters including Mr. Festus Eriye, Editor Sunday, The Nation Newspapers.
His remains have been deposited in the hospital morgue while burial arrangement, as released by the family, would be announced later.