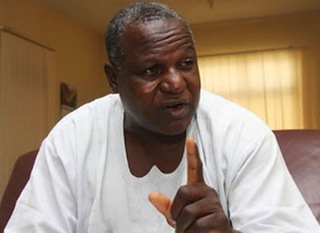 The Nigeria Labour Congress (NLC) has rescheduled its National Delegates' election to March 12 in order to resolve the issues that disrupted its 11th National Delegates Conference elections last week.
The NLC President, Mr Abdulwahed Omar, disclosed this while speaking at the end of the National Executive Council (NEC) meeting on Wednesday in Abuja.
The meeting, which lasted for about seven hours, had in attendance former Presidents of the NLC, Adams Oshiomole, Ali Chiroma, Hassan Sunmonu and other veterans of the Congress.
Also, a Lagos-based lawyer and human rights activist, Femi Falana, briefly joined the meeting.
Omar said that NEC unanimously approved the rescheduled date to reconvene the delegates' conference and conclude outstanding elections.
He apologised to Nigerians for the fracas which disrupted and caused inconclusive elections at the end of the conference.
He admitted that Nigerians must have been shocked to watch the fracas on national television.
"The elections were not just about us, or even about Nigerian workers, but about the stability of the nation.
"We know they were angry and disappointed at us because they never expected this from us. We want to give the assurance that it will never happen again."
He assured workers and Nigerians that the incoming elections would be peaceful; the contestants had agreed to put the interest of the congress first.
"They have agreed to abide by the rules and I want to urge all of us not to destroy the common will of the Nigerian workers," Omar said.
He also said that the Credentials Committee had been reconstituted but still headed by Dr Nasiru Fagge, the President of Academic Staff Union of Universities.
Former President of the NLC, Mr Hassan Sunmonu, said that the resolutions reached were agreed upon by all parties.
Sunmonu explained that what led to the fracas was not an attempt to rig the elections but the last minute inclusion of candidates.
"The Nigerians workers are looking forward to a stronger, united NLC that will intervene in the event of any political party that will want to destroy the solidarity of the nation during general elections.
"So we must not threaten the unity and solidarity of the NLC," he said.
Oshiomole, who spoke to newsmen briefly, debunked the insinuations that the election fracas had smeared the credibility of the congress.
He insisted that there was no attempt by anyone to manipulate the elections.
"Nigerian workers need a united voice at this time, a voice to interrogate all of us that manipulate the apparatus of government."

Load more