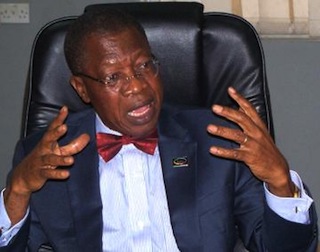 The All Progressives Congress (APC) has said the sickening and outlandish claim by the Jonathan campaign Organization that Asiwaju Bola Ahmed Tinubu plans to become Vice President through the back door was designed to divert attention from the runaway success of the APC presidential candidate, Gen. Muhammadu Buhari, at the Chatham House in London last Thursday.
In a statement issued in London on Saturday by its National Publicity Secretary, Alhaji Lai Mohammed, the party said the PDP and the Jonathan Administration still do not have any answer to what has now become an epochal moment that has separated the wheat from the chaff.
"Our presidential candidate's globally-acclaimed outing has presented Nigerians, and indeed the global community, with a choice between a bumbling, ineffective, incoherent, clueless, visionless and incompetent President and an assertive, knowledgeable, dignified, purposeful and principled President-in-waiting.
"Having failed to discredit that outing with a rented crowd, some of whom confessed to have been paid to carry placards they do not even understand, the PDP and the Jonathan Administration have now resorted to making nauseating claims that are totally untrue, absolutely incomprehensible and nothing but sheer bunkum," it said.
APC said the claim is the latest in a series of desperate moves by the PDP and the Jonathan Administration since the emergence of Gen. Buhari as the APC presidential candidate, and the clearest indication yet that they have no answer to the unstoppable momentum of a man of history.
"They have thrown everything imaginable at Gen. Buhari, but he has continued to wax stronger and stronger: They said he was not qualified, that he was too old, then they fabricated a medical report of an illness of their own choice, sponsored death wish adverts against him and instituted a myriad of court cases to stop him.
"After they failed to stop him, they went after the election itself, using the PVCs as a tool to launch a campaign for postponement and, when they realized that would not work, came up with the bogey of insecurity in the North-east to force a postponement of the election, hoping they can buy enough time to revive their electoral misfortune.
"With everything working against them, they engaged in a show of shame at The Chatham House that backfired badly, on the heels of their bare-faced lies that Gen. Buhari was hospitalized in London. The preposterous claim of a secret oath – reminiscent of what they do in their own party – by the apparently ailing spokesman of the Jonathan Campaign Organization, Femi Fani-Kayode, is their latest desperate act," the party said.
APC said in as much as it has so far refrained from engaging Fani-Kayode in his game of character assassination, abuses and irresponsible name calling, the party is becoming seriously concerned that he may be caving in under pressure and reverting to his undignified past of substance abuse.
The party said it would be a real tragedy if the obviously-disturbed spokesman of a doomed presidential campaign will have to be rushed to a back house in Ghana for therapeutics, hence the need for his handlers to quickly put him on a leash before it is too late.

Load more