Twelve days to the 28 March presidential election, politicians of different political persuasions have been canvassing for votes to emerge victorious in the  coming elections. In this interview with LANRE BABALOLA, the President, Association of Good Leadership Advocate, Peace and Development, Lagos (AGLAPDL), Prince Olusegun Ologbese speaks on the political gladiators and the state of the nation
What is your assessment of the current political situation in the country?
We are all political animals, though I don't belong to any political party, we are looking forward to the election holding on 28 March. It is our hope that they will allow the election to hold.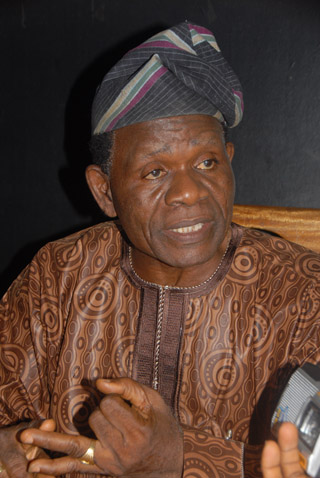 When you heard that the election was postponed from 14 February to 28 March, how did you feel?
At first, it caught everyone unawares. At the end of the day, after explanation from INEC and the fact that most people were yet to obtain their permanent voter cards we see the postponement as an opportunity for more people to collect their voter cards so that they can vote on the appointed dates.
What is your reaction to the allegation that INEC was unfair in the distribution of the PVCs between the North and South. Some southerners claimed they were shortchanged in the distribution of the cards?
I don't believe that. I don't see INEC playing any prank in the distribution of the cards. INEC's job is like that of the customs. Customs is a revenue collector and they have guidelines which they follow. INEC too as the electoral umpire has guidelines on how the PVCs should be distributed. Both the opposition and the government are accusing INEC of being biased. That is to be expected but my advice to the INEC chairman, Professor Attahiru Jega, is to remain focused and ensure that things are transparently done. It is not everybody that votes during elections. Look at the case of the Osun election, look at the number of people who registered but look at the number of people who came out to vote. I don't think they are up to a million. The same thing played out in Ekiti State during the governorship election. There are some people who are saying that they will not participate in any elections until a Rawlings comes to sweep away all the corrupt people. There is so much corruption in this country. I always tell such people to let their votes speak for them.
As a maritime expert, what is your opinion on the state of the economy. Are you pleased with the way the Jonathan administration has managed the economy so far?
The economy is down. It is clear for all to see that the current administration has mismanaged the economy. Look at the exchange rate of the naira to the dollar, it has gone up astronomically with a dollar exchanging for N220 to the dollar. Cost of imported foods has gone up and this has also affected locally produced goods. It is really sad.
What do you have to say about the clamour for the removal of the INEC chairman, Prof. Attahiru Jega by supporters of PDP?
The president cannot remove Jega because Section 157 of the constitution does not permit him to do that. For him to remove Jega, he has to get approval of the Senate and right now the Senate is controlled by the All Progressives Congress, APC, which wants Jega to remain in office to conduct the coming elections.
The APC in Lagos chose Akinwunmi Ambode as its governorship candidate. Also, the PDP chose Jimi Agbaje as its candidate. What is your assessment of these candidates?
In assessing these two candidates, the APC candidate, Akinwunmi Ambode, has a track record of public service while Jimi Agbaje has been an entrepreneur all his life. Agbaje is a pharmacist, he is very popular in Lagos and he has a pharmacy but when you look at the political situation in Lagos, you know that we need an experienced political administrator to continue the good work started by Bola Tinubu and which was actualized by Governor Babatunde Fashola.
You see, when it comes to the politics of Lagos, you cannot match Tinubu's vision for Lagos. This is the man who has participated in all the political struggles in Lagos. He went into exile and when he was there, he was taking care of those who ran away with him. When he returned, luck smiled on him and he won the Lagos governorship race. He has a vision for Lagos and has laid the blueprint for the development of the state, and that is what his followers are following to develop Lagos.
Does that give him the right to impose candidates on the state?
Those who are accusing Tinubu of imposing candidate on the state do not know how the state is run. They don't know how government operates. Tinubu alone cannot impose a candidate on a party. In the selection of Ambode, a primary election adjudged free and fair was organised and Ambode emerged the winner. Tinubu knows the capability of these people because they have all served under him as governor. Look at what Fashola is doing, are we all not applauding him. If he was not picked by Tinubu will he be able to do all that he has done and is doing. You see Tinubu managed Lagos very well when former President Olusegun Obasanjo seized the state's local government allocation fund. It was to the credit of Tinubu that the state did not collapse. So, he should be given kudos. This is why we should respect his choice of candidate, he is an experienced administrator.
Some PDP chieftains have expressed fears that if Buhari eventually becomes president, Tinubu will be dictating to him and will not allow him to do the job. What do you make of this allegation?
Frankly, this is an opportunity for me to erase some wrong impressions about Tinubu. If Tinubu who installed Fashola did not prevent him from executing his bold ideas which have transformed Lagos State into a mega city, how will he prevent a retired general of the Nigerian Army from performing. This is political propaganda.
You mean Tinubu will not teleguide Buhari?
How can he teleguide Buhari. That is PDP allegation and people should not believe them.
They also said Tinubu is supporting Buhari in order to hijack power from him when he becomes president since Tinubu could not win on his own……
No, no, no, no, Look my brother, these people are desperate to retain power and will do everything possible to cause a rift between Tinubu and Buhari. That is why they are coming up with this baseless allegations. How can Tinubu hijack power from Buhari when he did not hijack power from Fashola who he installed. What many people don't know is that Buhari is a stubborn person who believes in his cause. He is a good listener who likes to know the truth. He has a strong conviction.
Let's come to Lagos, some politicians, even in APC, also accused Tinubu of imposing Akinwunmi Ambode on them, like he did in the case of Fashola. You think they have a point?
APC is a performing party. You don't change a winning team. Tinubu is a man who has a knack for identifying intelligent people who will best serve the people. This is not imposition. We should give him credit for this. Look at the case of Fashola. We are all celebrating that he has taken Lagos higher. If Tinubu did not pick him, perhaps we'll still be where we were, but Fashola has actually performed and it is due to the vision of Tinubu.
Why do you consider Tinubu a master builder. Is he related to you or you have benefitted from him?
Tinubu is a strategist and a consummate politician. You cannot but like him. Look at what happened in the 2003 elections when former President Olusegun Obasanjo deceived the leaders of Alliance for Democracy to win some Yoruba states for his party, the PDP. It was only Tinubu that survived the onslaught. He did not believe Obasanjo was sincere and so ensured that PDP did not win Lagos. It was only Tinubu's Lagos that did not fall into the hands of  PDP because of Tinubu's political wizardry.
Tinubu was also able to withstand the storm when Obasanjo seized allocations meant for the running of local governments in the state. Through his political ingenuity, Lagos was able to survive the onslaught.
Thirdly, Tinubu has milk of human sympathy flowing in him. Look at all his investments, they are all in the country and through these he has been able to provide jobs for thousands of jobless people. There are those politicians who stole the country's money and took it overseas to enjoy with members of their families. Tinubu is a man who loves the masses and has been doing everything to alleviate their suffering. I respect him a lot.
His disagreement with Afenifere people started when he told them of the idea of turning Alliance For Democracy into a national party. They said they were satisfied with the way things are, they said they don't want anybody to draw them into something he cannot control. So, Tinubu joined to turn AD into a national party.
As the nation prepares for another election, what is your advice to the electorate?
My advice to the people is that they should shine their eyes and vote wisely. It is well known that corruption is the major problem facing this country. It is corruption that has not allowed Nigeria to realise its full potential. The Jonathan administration has failed to tackle it. Infact, corruption has become a huge monster in this administration. What we need now is someone who can tackle the problem. Buhari is well known as an anti-corruption crusader. He is incorruptible and well known for fighting corruption. He is a no-nonsense person. If we want to move forward we should vote for somebody who doesn't tolerate corruption.
Some people also described Buhari as too rigid and uncompromising; that he is averse to change and new ideas. Do you share this views?
Don't let us confuse ourselves here. There is a difference between a military administration and a civil one. Those making references to Buhari's rigidity are living in the past. All those things they alleged he did happened during the military era. Now, we are in a civil democracy, he cannot do all those things again. Now, he has to get approval for all his actions from the Senate and House of Representatives. Nobody is above the constitution in a civil democracy. The lawmakers will tame whatever dictatorial tendency manifested by any head of state.
There is also this allegation that Buhari is a muslim fanatic and that he will Islamise the whole country, if he becomes president.
That is also untrue. That is a cheap propaganda by unenlightened people. Is it possible for one person to convert every Nigerian to muslim. It is not possible. Some people are just using religion to confuse the ordinary people. Buhari cannot convert anybody to muslim.
Those in support of Jonathan coming back said they are supporting him so that he could implement the recommendations of the national conference, you think they have a point?
They are not being truthful. All the issues taken to the conference by the Yoruba were rejected. Those people should not lead the Yoruba astray because there is nothing in the report of the constitutional conference to favour them. That is the truth and I challenge them to contradict me on this.
What is your assessment of the Fashola administration?
Fashola has tried. I am impressed with his intervention in the Badagry to Seme road where work is still ongoing. This is an ECOWAS route but the state government is constructing it. Fashola deserves kudos. It is not that he doesn't have his failures, infact, he has many but don't let us go into that.
What is your advice to the APC leadership
They should open their doors to accommodate more members into their fold. They should not shut the door to popular activists who want to join the party. A good case is retired Colonel Animashaun Ogbolu who has been struggling to join the party. The APC leadership should be more accommodating.

Load more