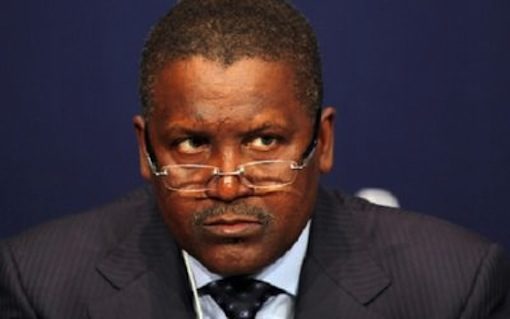 Football lovers in the country have requested Africa's richest man, Aliko Dangote, to buy into one of the local league clubs in order to help the growth of soccer.
According to some of them, all that some of the clubs need are massive injection of funds to help them to grow like some in the developed leagues such as the English league.
Some of the fans made the plea in an interview with the News Agency of Nigeria (NAN) from various parts of the country, against the backdrop of Dangote's latest bid to buy into Arsenal FC of London.
Dangote was said to have in 2010 made a futile attempt to buy Lady Nina Bracewell-Smith's 15.9 per cent stake in the London club.
Recently too, he was reported to have made another bid that had also been turned down.
Undaunted, he was said to have even vowed to make another offer they might not turn down The fans said they were mindful that he had the resources to do so, going by reports in the American Forbes Magazine that put his fortunes at around 3.3 billion dollars (about 2.18 billion pounds).
Even though many acknowledged his bid for Arsenal take over are legitimate as a businessman out to invest for profit but insisit that corporate social responsibility demanded he should also invest in Nigeria, where he made the bulk of his fortunes.
Arsenal club was founded in 1886 (129 years ago) and currently valued at 1.3 billion pounds as at May 2015. An American, Stan Kroenke is the largest shareholder with 41, 574 shares (66.82 per cent) in the club.
A former Green Eagles Coach, Adegboye Onigbinde said: "for him not to think of our league shows that something is terribly wrong.
"We do not have a structure. In fact going by FIFA regulations, none of our clubs has met the required standards of a club that a person like Dangote could have owned".
He, however, said the proposal by the businessman was all about business decision. "We should not be emotional on that ground".
"It is only when you bring in patriotism that it looks morally wrong, but first and foremost, he is a businessman. And so is only normal for him to spread his tentacles wisely.
"Business and sentiments do not mix. If I may advise, I think what we need more in this country is someone to back the overhauling of our grassroots programmes.
"If Dangote decides to focus on sports development, the youth of this country will not forget him because sports in general are what has brought fame to some ghetto children," Onigbinde said.
Amos Adamu, a former Director-General, National Sports Commission (NSC) told NAN that the attitude of Nigerians did not encourage investors to finance local clubs.
"It is practical, there are people in Nigeria that have never been to the stadium to watch the Nigerian league matches but as businessmen will naturally align with success.
"These same people will do anything within their means to ensure that they watch international leagues like the Barclays Premier League and co; they are die-hard supporters of teams like Arsenal.
"We are looking at it as football, but it is business for him, but people investing in football are doing it to make more money.
"He has interest and he can make more money from it so why not, it is purely business no strings attached. There are certain things you like in life that makes you happy," Adamu said.
Felix Owolabi, a former Eagles player said the businessman's intension was based on making more returns on his investment because of how lucrative football had become.
"To start with he is a business tycoon that wants to expand his frontiers. So, I personally have no problems with that, there is no point bringing elements of morality into this".
Ajibola Lagbaja, a soccer enthusiast based in Akure said that after Dangote had been able to put the – league in world map, then he could invest in Arsenal.
"I can't blame him, he is a businessman and he will ensure that Arsenal gets the best players in the world. But before he expends on a foreign club, he should start by helping to develop our league in the country".
Mayowa Ademoyegun, Personal Assistant to the Chairman, Ondo State Football Agency (ODSFA) said it would be a good one for Arsenal if Dangote could invest in it.
"Purchase of Arsenal club by Dangote is a good one for me as a fan of the club. It will be a welcome development".
Tosin Adeyemi, another Akure-based enthusiast said Dangote should collaborate with the authorities running the Glo Premier League to improve it.
Adeyemi noted that although the profit might not come immediately as expected, but that it would be a long term project.
NAN reports that since inception of the club, it has won 13 first Division Cups and 11 FA cups, and reached the finals of UEFA Cup in 2000, indeed, the first London team to appear in a UEFA Champions League. That was in 2006.

Load more