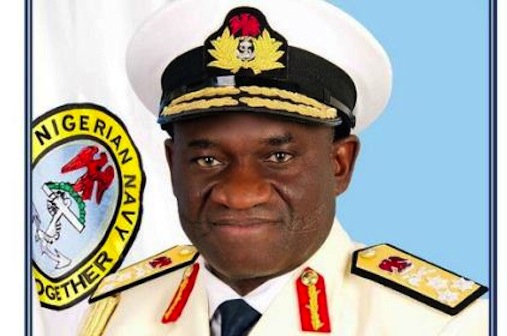 The Nigerian Navy is working assiduously to rid the country's territorial waters of all illegal activities, Chief of Naval Staff, Vice Adm. Usman Jibrin, has said.
Jibrin gave the assurance on Sunday at an inter-denominational church service to mark the 59th anniversary of the Nigerian Navy at All Saints Protestant Church, Mogadishu Cantonment, Abuja.
Represented by Rear Adm. Johnson Olutoyin, Chief of Policy and Plans of the Navy, Jibrin said the Navy had done well in the past 59 years.
He said the success recorded by the navy was attested to by the drastic reduction in crude oil theft and other illegal activities in the maritime sector.
"There is no doubt that the navy is working assiduously to continue to fight pockets illegal activities that still remain in our maritime environment.
"That is why we are grateful to President Goodluck Jonathan for the recent acquisition of needed platforms into our fleet.
"The addition of these platforms will assist the navy in its policing operations
"It will also assist the navy to effectively deal with other security challenges in our maritime domain," he said.
Jibrin urged officers, ratings and civilian staff of the navy to be prayerful, steadfast and faithful, adding that the nation was passing through a critical period.
He also urged them to be peace loving citizens and abide by principles that would foster unity in diversity.
"As we celebrate, let us be good to one another by improving the lives of our fellow human beings and working together to make the navy and the country greater.
In his remark, the former Chief of Naval Staff, Vice Adm. Ishaya Ibrahim, said he was proud of the navy he left behind.
"Things change every day and the navy is moving in the speed I expect of them; if you measure their output, they have done very well.
Earlier in his sermon, titled "Jesus is the Answer", the Director of Naval Chaplaincy Rev. Godshelp Osaghae, said with men some things are impossible but with God all things are possible.
Reading from John chapter 1 verse 1 to 4, Osaghae stressed the need for man to key into the word of God to put an end to his struggles
"As we celebrate the 59th Anniversary of the navy, I commit the navy to the hands of God who make all things possible.
NAN reports that the Nigerian Navy was established on June 1, 1956.

Load more