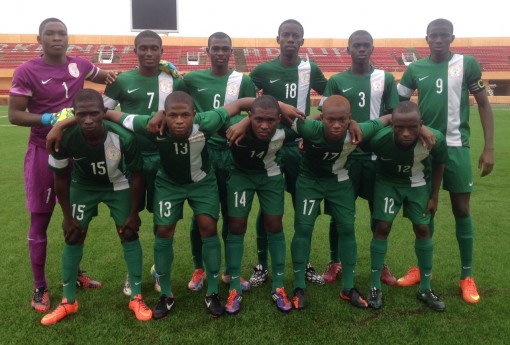 The U-17 national team, Golden Eaglets, will play hosts Korea Republic in their first match at the 4-Nation Suwon International Tournament on 2 September.
Arrangements have been finalised by the Nigeria Football Federation, NFF, for the Golden Eaglets to depart for Korea on Sunday for the invitational competition which was shifted in July due to the outbreak of MERS in the Far East.
Hosts Korea Republic would be joined by Brazil, Croatia and Nigeria, and the teams will play one another on a round-robin basis between 2-6 September to determine the tournament winners.
The Golden Eaglets would open their game against the Baby Taegu Warriors on 2 September and would complete their schedule against Brazil and Croatia on 4 September and 6 respectively.
Organisers said the tournament is a good test run for the four teams heading to the FIFA U-17 World Cup, Chile 2015, where Nigeria and Croatia are drawn together along with host Chile and USA in Group A.
Brazil and South Korea are also in the same Group B along with Guinea and England.
Meanwhile, Golden Eaglets' squad of 18 players and officials are expected to leave their closed-camping site in Katsina on Saturday en route to Lagos through Abuja where they are expected to fly out for the tournament, and are expected in Suwon on Monday, 31 August.
They are due back in Nigeria on 8 September.
Ahead of their trip to Suwon, the Golden Eaglets continued their preparation for the tournament with a 4-1 win against Katsina State Football Club Owners' Selected Team at the Karkanda Stadium in Katsina on Thursday.
"This was a very difficult match and a good test again for our team," Golden Eaglets' assistant coach, Kabiru Baleria, said afterwards.
"The most important thing is that the boys are showing what they are learning in training."
Golden Eaglets Fixtures: 2nd September: Nigeria Vs. Korea: Kick Off-20:00
•4th September: Nigeria Vs. Brazil : Kick Off- 17:30
•6th September: Nigeria Vs. Croatia : Kick Off- 20:00
Load more