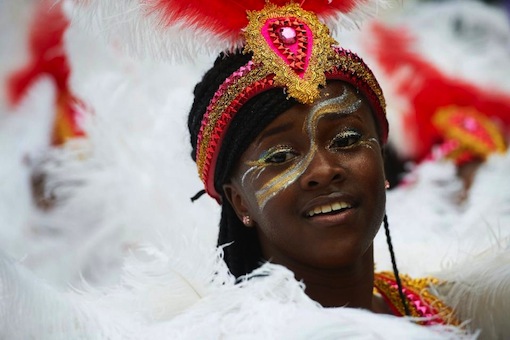 London (AFP) – London's Notting Hill Carnival kicked off with a riot of colour despite grey skies on Sunday, in a celebration of Caribbean culture reputed as Europe's biggest street party.
Performers on stilts and wearing bright pink wigs, and dancers in feathered headdresses and rainbow outfits entertained the crowds that packed the streets of west London.
About a million people are expected to attend the two-day event.
Sunday was Family Day, featuring a children's parade to the sound of varied music styles, while Carnival-goers tucked into Caribbean food such as jerk chicken on the sidelines.
The bright costumes made a contrast with the overcast sky, as the weather stayed dry despite predictions of rain.
Lightning and heavy downpours have been forecast for the grand finale parade on Monday, which follows a five-kilometre parade route, featuring 60 bands and dancers in exotic carnival costume.
"It's an opportunity for kids to run around and see something different, interact with different people and experience the food, smells, sounds and dancing," said William Medley, 35, a London tech worker. "It's a fantastic party atmosphere."
But the carnival is also notorious for sporadic gang-related violence and robbery.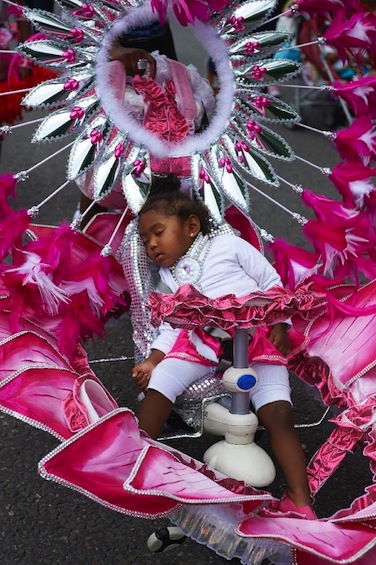 Police said there were 92 arrests on Sunday, including for thefts and assaults, after 143 people were arrested in the run-up.
"Unfortunately given the large number of people the event attracts, there will always be some who see it as an opportunity to commit crime," said Superintendent Robyn Williams, Scotland Yard's spokeswoman for the celebrations.
"I say to those who plan to cause trouble, do not come; we will do everything in our power to make things difficult for you."
There were 6,000 police on duty at the carnival on Sunday, with 7,000 due to provide security on Monday.
Police said they had seized 350 canisters of nitrous oxide, known as laughing gas and long used as an anaesthetic, which has been the centre of controversy in Britain as its popularity has grown as a party drug.
The Notting Hill Carnival started in the 1960s, when the area had a large population of immigrants recently arrived from the Caribbean and was notorious for its slums — a far cry from today when it is one of London's most expensive places to live.

Load more