Akin Kuponiyi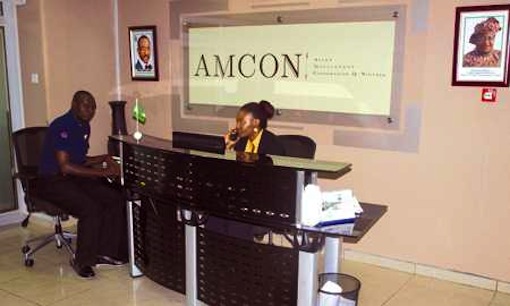 In a bid to recover a debt of N1,207,296,646.45 from G.CAPPA PLC. Construction Company, the Asset management corporation of Nigeria (AMCON) in accordance with order of a federal high court in Lagos, Southwest, Nigeria has taken over a property located at Borno Way, Ebute Metta, 8,Taylor Road, Iddo, Bonds Line, Lagos, belonging to the construction company pending the hearing and determination of the substantive debt recovery suit filed before the court by AMCON.
In addition the presiding judge, Chukwujekwu Aneke while restraining the company from dealing with and on the property in any form, also ordered that accounts maintained in any bank and financial institution in Nigeria by the construction company should be frozen.
The order of the court was sequel to an affidavit in support of an application filed by Mr Victor Igabor, of the Credit Directorate of AMCON and argued before the court by Chief Chuks Okeugiri.
The deponent averred that sometimes between 28th April, 2000 and March 2002, Cappa Plc applied for and was granted the sum of N880 million loan by United Bank for Africa Plc (UBA).
The loan was secured by the property situated at Kano street, Borno way, Ebute Metta and yard situate at 8, Taylor, Iddo, Bond line as the company's property pledged to UBA. The loan was later purchased from the bank by AMCON.
However at the expiration of the facility, the company failed and neglected to liquidate its indebtedness thereby leaving outstanding balance of N1,207,296,646.46.
Despite several appeals to the company and restructuring of the loan, nothing has been done by the company to repay the loan, the company then mandated his solicitors Chief Chuks Okeuguri to commence legal action against the company to recover the debt.
Consequently the claim of AMCOM against G.Cappa Plc is in the sum of N1,207, 296,646.45 and interest at the rate of 21 per cent from the 4th of June 2014 till judgement is delivered and thereafter. Then 10 per cent until final liquidation of the judgement sum.
However, in a statement of defence filed before the court by the company's lawyer Mr Taiwo Taiwo, the company denied that it failed to liquidate its indebtedness to UBA as the issue has always been that of ascertaining its exact indebtedness to UBA Plc.
Consequently the company had not offset its debt to UBA Plc owing to the discrepancies in the outstanding balance. He added that the sum being claimed by AMCON is not only outrageous but bogus, frivolous and baseless.
Meanwhile, AMCOM has filed an application before the court urging the court to enter judgement against the company as per its claim before the court.
Justice Aneke has adjourned till 6th of October, 2015 for hearing of the substantive suit.

Load more