Abiodun Onafuye/Abeokuta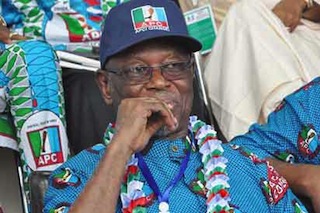 Over one thousand members of the Social Democratic Party, SDP, in Ijebu East Local Government area of Ogun State have returned to the ruling All Progressives Congress, APC.
Receiving the members Thursday at the party's secretariat in Ogbere, the APC Chairman in the area, Otunba Adedayo Ademosu, said the returnees have finally come back home.
"You are all welcome back home, you have just returned to your home. This is your party, you are not strangers. I'm highly happy to welcome and receive you back home," Ademosu said.
It was gathered that each ward in the local government was asked to bring some members to the secretariat for recognition while other returning members would be doing so in the 11 wards across the local government area.
Leaders of the returnees, Mr Christopher Rotimi Okeowo, a former Chairman of the SDP in the local government area and Chairman of the Chairmen and Olugbenga Salabiu, an ex- Councillor and Chairman, Osunmayegun Forum, expressed happiness for returning to their 'people'.
Speaking with our correspondent, a former council chairman in the area and a chieftain of the APC, Comrade Tunde Oladunjoye said he is more than happy to see the returnees.
"I am more than happy to see our people coming back to us. I have been persuading them before the election but they said they were having some issues then. God's time is the best. I'm happy that they are back with us.
"My advice to them now is to join hands with the party to move the local government forward. There are no more people in the opposition parties in the local government,so they should join hands to make Ijebu East an APC alone party in the local government," he said.

Load more