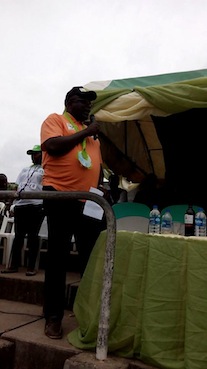 The ongoing 2015 Lagos NUJ Games got hotter on Day 3 Wednesday with football teams booking their places in the quarter finals of the 10th edition sponsored by Med-View airlines.
With most teams having already played three rounds of matches in the football events, Daar Communications, Federal Radio Corporation of Nigeria (FRCN), Complete Sports, Silverbird Television (STV), TheSun and SportsDay have scaled the hurdles of the group stage to book tickets in the quarter finals which will be decided on Friday at the Legacy Pitch of the National Stadium, Surulere, Lagos.
Daar Communications playing in Group C garnered 7 points followed by STV with 6 points.
FRCN topped Group B with 6 points while Complete Sports lead Group A with 7 points.
Though they still have to play one another on Thursday, SportsDay and TheSun have already qualified for the quarterfinals in Group D.
Other teams are expected to pick their tickets for the next round of the football event after proceedings on Day 4 (Thursday).
Federal Information are scheduled to play Voice of Nigeria (VON), Vanguard play against The Source, Lagos Television (LTV) battle News Agency of Nigeria (NAN), and Lagos Information will settle scores with VON.
Meanwhile, the technical committee of the competition has disqualified the football team of Business Plus magazine from the tournament after it was discovered that they paraded ineligible players (mercenaries) in their match against Vanguard on Wednesday.
This was discovered through investigation conducted at the instance of a petition from Vanguard who alleged that Business Plus got their 1-0 victory against them through questionable means.
Thursday will see the commencement of indoor games such as Scrabble, Draught and Chess, while table tennis will also be concluded the same day.
The grand finale of the 2015 Lagos NUJ Games will hold Saturday evening at a colourful ceremony inside the National Stadium, Surulere.