Cyriacus Izuekwe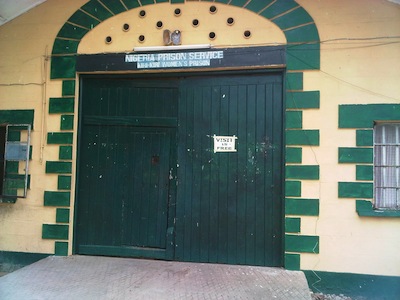 There was a mild drama at Ejigbo Magistrates' court on Tuesday after the presiding Magistrate, Mrs J.O.E. Adeyemi refused to release a man, Paul Uduozor, who allegedly battered his wife and blinded her in Lagos State, western Nigeria.
The woman called Faith, was seeking to withdraw the matter due to pressure on her by her relatives who said Igbo culture and tradition forbid a woman from locking up her husband in prison.
Both Paul and Faith including the female litigants were in tears over the emotional outburst by Faith after Adeyemi refused to strike out the matter.
Adeyemi was forced to rise and enter her chamber and asked the prison warders to take him back to prison custody.
The suspect, Paul Uduozor, allegedly battered his wife, Faith, and in the process damaged her eyes, one was completely damaged while the other was also affected.
The incident happened at 6, Oloro street, off Akani street, Abaranje, Ikotun, where they reside.
The matter was reported to the police at Ikotun division and Paul was arrested and charged to court for the alleged offence.
He was charged with causing permanent defect to Faith's eye and assault under the Criminal Code.
Though Paul pleaded not guilty and was granted bail in the sum of N250,000, he has been remanded in prison custody since then.
When the matter came up on Tuesday, the prosecutor, Sergeant Babaji Ishaku, informed the court that there was a new development on the matter.
He told the court that Faith, who is the complainant in the matter, had written to withdraw the matter from court.
When she mounted the witness box and removed her eye glasses in the open court, the Magistrate expressed shock and refused to strike out the matter.
The woman pleaded with the court to withdraw the matter, explaining that she was from a royal family in Mbano in Imo State.
The litigants, mostly female, broke down in tears after seeing Faith's blind eye and the court immediately rose.
Paul was taken back to Kirikiri prison in a Black Maria bus parked in front of the court.