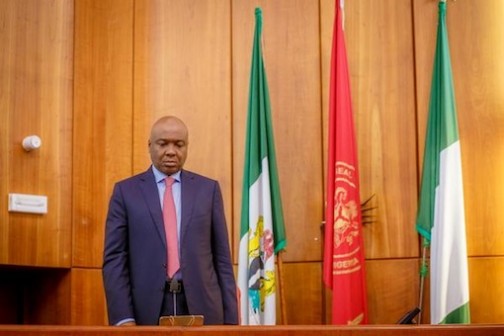 ki
Ayorinde Oluokun/Abuja
The Code of Conduct Tribunal (CCT) has postponed the sitting for the trial of Senate President, Bukola Saraki, regarding the 13-count false asset declaration charge against him.
The tribunal chairman, Mr. Danladi Umar also set a new date of 6 November for the trial.
He took the decision after listening to Saraki's lawyer, Joseph Daodu and government lawyer, Rotimi Jacobs, both senior advocates, on the pending case at the Court of Appeal. Judgement was slated to be delivered on Tuesday, but was postponed indefinitely.
Daodu had raised the issue of the appeal, after the Tribunal Chairman ordered Saraki to enter the dock.
He was supported by government lawyer, Rotimi Jacobs, who also informed the tribunal of the case at the Court of Appeal, saying the appellate court which heard the case for 10 days said judgement was not ready.
Jacobs said there is need for the Tribunal to respect the Court of Appeal and halt proceedings. He added that the appeal court may deliver its judgement in the next one week.
He asked the Tribunal to adjourn proceedings for two weeks, so as not to disrespect the higher court.
Jacobs said he has his witnesses were ready to proceed if the Chairman of the Tribunal ruled otherwise.
Saraki's lawyer supported the argument. But he asked the Tribunal to adjourn indefinitely since there is no assurance of when the Appeal Court will deliver its judgement.
Daodu lawyer said the tribunal should take the fact that the defendant is a Senate President and he is at present handling an important national assignment at the National Assembly.
But Jacob opposed him, arguing that he is intimidating the court.
Everybody is equal before the law, he said.

Load more