Kazeem Ugbodaga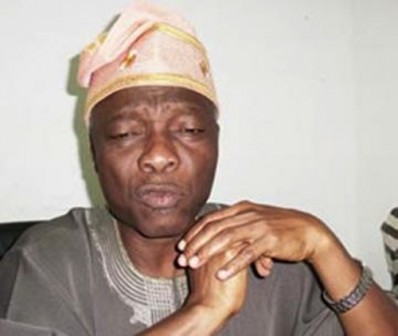 The Afenifere Renewal Group, ARG, says the group has not derailed from the philosophy of Afenifere which the late sage, Chief Obafemi Awolowo had entrenched.
This comes following the statement by resigned factional Afenifere leader, Chief Reuben Fasanranti that the Afenifere he led has derailed from the philosophy of the founding fathers.
Chief Olawale Oshun, Chairman, ARG in a statement on Tuesday said Fasanranti's statement had confirmed "our worst fears of what we had always known since the IITA reconciliation summit of 2006. The failure of that summit provided the groundswell for the reluctant emergence of Afenifere Renewal Group."
Oshun said Afenifere has now clearly exhibited itself as an out of touch institution whose lack of rudder has led to a total derailment from the fundamental values upon which it was built.
"Chief Fasanranti's exit as the leader of Afenifere is a clear indication that the organisation has come to roost.
"We in Afenifere Renewal Group had seen the need for a renewal of Afenifere movement, anchored on the original philosophy of our late sage, Chief Obafemi Awolowo, as the legitimate voice of Yoruba people, providing the visionary, selfless and altruistic leadership that our people and land require and deserve," he said.
According to Oshun, at this very critical period in the history of Nigeria and the people, "we in the Afenifere Renewal Group [ARG] will continue the pursuit of the lofty ideals enunciated by the founders of Afenifere at its inception in Owo in 1951.
"We call on all well intentioned Yoruba people to steer away from the unhealthy recriminations of the past, inherent in unwholesome ego, dividing our people and enabling the continuing slide from the heights hitherto attained through the vision of that great leader of all times, Chief Obafemi Awolowo, and the hard-work and forbearance of Chief Adekunle Ajasin and Senator Abraham Adesanya, all of blessed memories."
Oshun added that there is work "for us to do, says the Afenifere anthem, and we in ARG are more than prepared to focus on this. We therefore seek the support of all YORUBA people, including those who still retained their Omoluabi values in the old order, to join ARG in our fervent pursuit of promoting, protecting, and ensuring the development of Yoruba people and communities in all spheres of human endeavours as embodied in our watch word:"freedom for all; life more abundant."

Load more