Taiwo Adelu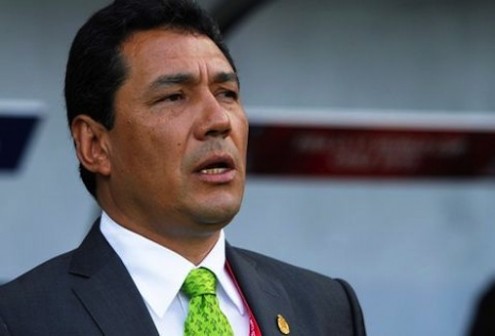 Chief Coach of Mexico, Mario Arteaga, has boasted that though the Nigeria's Golden Eaglets have shown to be a tough side, his team will be battle ready to face them in Thursdays' semi final match of the ongoing FIFA U-17 World Cup Chile 2015.
Mexico set up a mouthwatering semi-final showdown against Nigeria after eliminating Ecuador with a 2-0 win in Coquimbo in Chile Monday night. Claudio Zamudio's first half strike and Bryan Salazar's penalty after the break saw off the South Americans, who fail to go one better than their only previous quarter-final appearance at this level in 1995.
"The match (against Ecuador) went as we expected, very tight between two teams with the same level. But my team have managed to stay very calm and very well composed this game with impeccable behaviour," FIFA's website quoted coach of the two-time U-17 World Cup champions, Arteaga to have said after the encounter.
In what appears to be a strong warning to their semi final opponents, Nigeria, Orteaga boasted that his El Tri are strong and physically ready for the semi final match- a truly remarkable game in prospect.
He said: "My players were good tactically, physically and mentally. Nigeria are a very good team, and we will prepare ourselves better to face their excellent attack."
While speaking before the Mexico versus Ecuador match on Monday, Nigeria coach, Emmanuel Amuneke had said that his team would be ready to face whoever won the match, adding that having qualified to the semi final stage of the World Cup, his eyes are set on the coveted trophy on 8 November.
Meanwhile, coach of Ecuador, Jose Rodriguez, has attributed his team's loss to Mexico to bad luck.
"Our goal here was to reach the final, but luck was not on our side. We had chances but we made mistakes on the finish. We also made mistakes on Mexico's goals, which were scored after fouls we made. We learned a lot today (Monday), we're the only ones to blame," said Rodriguez.